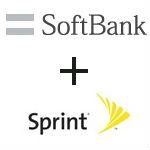 U.S. carrier Sprint will soon be controlled by Japanese telecom and media conglomerate SoftBank, the two confirmed earlier today. In the $20.1 billion transaction, SoftBank will gain 70% control of the 'New Sprint,' with Sprint shareholders owning 30%. SoftBank will pay $12.1 billion directly to Sprint shareholders and invest an additional $8 billion in the newly formed entity 'New Sprint.'
The combined entity (including Japanese and U.S. markets) will have about $32 billion in annual revenue attributed to mobile wireless, and will have 96 million subscribers. To put that in perspective, Verizon and AT&T have 111 million and 105 million respectively, in the U.S. alone.
SoftBank and Sprint cite significant synergies, including SoftBank's 4G path using TD-LTE technology, which matches Sprint's infrastructure partner Clearwire's path. There is speculation that Sprint may buy a controlling stake in Clearwire (they currently own 48%), now that they are flush with $8 billion in cash. Other strategic acquisitions may now be in play as well, as Sprint will look to bolster its position in the U.S. market.
Foreign Interest Dominates the U.S. Wireless Market
With this move, foreign entities now have major stakes in three of the four largest wireless carriers in the U.S. Sprint is now controlled by a Japanese conglomerate. T-Mobile is owned by Germany's Deutshe Telecom (which will soon also own MetroPCS). Global powerhouse Vodafone, based in the U.K., owns 45% of Verizon Wireless. That leaves AT&T as the only national U.S. carrier without significant foreign ownership or control.
Indeed, the mobile wireless business is a global phenomenon. It demonstrates the importance of scale, which for mobile broadband, apparently extends globally, not just regionally or nationally.
"Our management team is excited to work with SoftBank to learn from their successful deployment of LTE in Japan as we build out our advanced LTE network, improve the customer experience and continue the turnaround of our operations," said Sprint CEO Dan Hesse in a press release announcing the transaction.
The deal values Sprint at more than $30 billion and is expected to close in mid 2013. Sprint CEO Dan Hesse will remain CEO of the new Sprint.