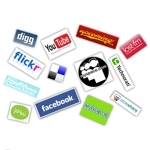 A snapshot of social media use undertaken by the Pew Research Center this past September reveals significant year-over-year increases in the proportion of U.S. online adults making use of Twitter, Instagram and LinkedIn along with increased levels of user engagement with the most popular social media site, Facebook.
Facebook remained the most popular social media site by far. Growth in user numbers slowed, however, though Facebook experienced higher levels of user engagement year-over-year, Pew highlights.
Focusing on the 81 percent of U.S. adults who use the Internet, Pew found:
Multi-platform use is on the rise: 52% of online adults now use two or more social media sites, a significant increase from 2013, when it stood at 42% of internet users;
For the first time, more than half of all online adults 65 and older (56%) use Facebook. This represents 31% of all seniors;
For the first time, roughly half of internet-using young adults ages 18-29 (53%) use Instagram. And half 0f all Instagram users (49%) use the site daily;
For the first time, the share of Internet users with college educations using LinkedIn reached 50%;
Women dominate Pinterest: 42% of online women now use the platform, compared with 13% of online men.
Social Media Usage
Facebook's U.S. online adult user numbers were little changed on a year-over-year basis in its September survey – except when it came to older adults. "For the first time in Pew Research findings, more than half (56%) of Internet users ages 65 and older use Facebook," Pew highlights in its press release.
Seventy-one percent of U.S. adult Internet users overall are on Facebook. That's little changed from Pew's August 2013 survey.
While growth in user numbers flattened out, user engagement with Facebook increased. "Fully 70% engage with the site daily (and 45% do so several times a day), a significant increase from the 63% who did so in 2013," according to Pew.
Outside of Facebook: "Every other social media platform measured saw significant growth between 2013 and 2014," Pew continues. Instagram's user base grew 9 percent, with increases in "almost every demographic group."
LinkedIn's user base among its core users, which include professionals and college grads, also grew. Twitter and Pinterest experienced "increases in usership across a variety of demographic groups."
Frequency of Use
User engagement among these social media platforms isn't nearly as high as it is for Facebook, Pew points out. "About half (49%) of Instagram users and 17% of Pinterest users engage with their respective platforms daily, although neither of these represent a significant change from 2013."
About 36 percent of Twitter users visit the site daily, a 10 percent decrease from 2013's survey. Thirteen percent of LinkedIn users said they visit the site daily, essentially unchanged from 2013. The proportion of users who visit the site weekly or less frequently increased significantly, however.
More than half (52 percent) of U.S. online adults use two or more social media sites. That's up from 42 percent in 2013. "Significantly fewer adults use just one site – 28% compared with 36% last year," according to Pew.
Among those who use only one, Facebook continues to reign supreme: 79 percent of those who use only one social media site use Facebook. The proportion of Facebook users also using another social media site is rising, however.