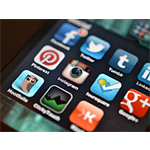 Mobile app usage growth continued in 2015, rising 58 percent from year-end 2014's level, according to Flurry from Yahoo's ¨2015 Year in Review.¨ Flurry tracked 3.2 trillion app sessions across some 2.1 billion devices in 2015.
2015's increase marks the seventh consecutive year of strong mobile app usage growth, though 2015's growth rate falls well below that of the previous six years. Growth in mobile app usage was strongest in Flurry's Personalization (up 332 percent), News & Magazines (up 135 percent), and Utilities & Productivity (up 125 percent) categories.
Games was the only mobile app category where usage declined, falling 1 percent year over year, Simon Khalaf, Yahoo's SVP, Product & Engineering for Publisher Products highlights in a blog post.
Mobile App Usage Growth Surging
Usage of Lifestyle & Shopping apps also posted strong growth, up 81 percent, as did apps in Flurry's Travel & Navigation (up 54 percent), Sports (up 53 percent), Health & Fitness (up 52 percent), Messaging & Social (up 51 percent), and Music, Media & Entertainment (up 21 percent) categories.
Notably, Flurry estimates that existing, as opposed to new, users were responsible for 40 percent of 2015's overall 58 percent mobile app usage growth . That compares to 20 percent in 2014, when overall app usage grew 74 percent, and 10 percent in 2014, when overall app usage grew 103 percent.
This year's results provide a sign that end-users are increasingly relying on mobile devices and apps as their primary means of accessing and using the Internet. The 119 percent year-over-year rise in Productivity app sessions is a clear sign that end-users (teens and college students in particular) rely on smartphones, phablets and tablets as their main computing device, and the only device they use to access email and other productivity apps, such as Google Docs, Quip, Slack and Microsoft's productivity suite, Khalaf points out.
Delving further into the data for leading app categories, Flurry found that most of 2015's growth in use of Personalization apps was driven by Emoji apps, and within that mainly keyboards. In addition, growing use of News & Magazine apps, which rose 141 percent year over year, signals a shift away from TV sets and PCs and to smartphones for media consumption.
Furthermore, 2015's 80 percent growth in Lifestyle and Shopping apps serves as confirmation of earlier indications that mobile commerce is ¨growing like a weed,¨ Khalaf notes, adding that m-commerce now accounts for some 33 percent of online commerce in the U.S. and 40 percent worldwide.

Form factors
Turning its lens on app usage across different types of mobile devices, Flurry found that use of phablets soared when it came to media consumption. Phablet app usage in the News & Magazine category was 4.8 times that of average growth across all devices. Phablet Sports, app sessions were 4.8 times higher, while phablet Music, Media & Entertainment sessions came in 4 times above the overall average.
Furthermore, Flurry found that phablets accounted for nearly 3 in 10 mobile device activations (27 percent) in the week prior to Christmas, according to holiday season market data it gathered from more than 780,000 mobile apps.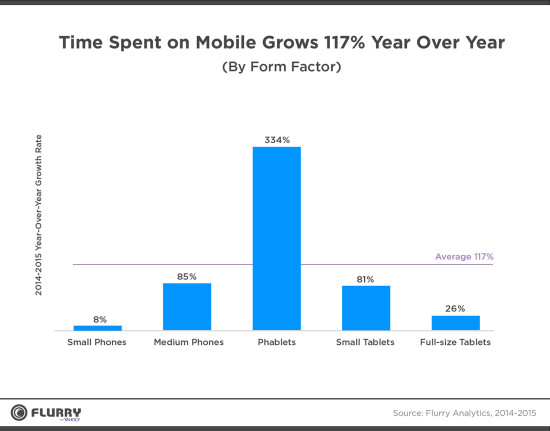 Flurry's latest annual research results show that end-users are also spending more time using their mobile devices. Time spent more than doubled in 2015, increasing 117 percent year over year, Flurry found.
Breaking that data down across form factors revealed that time spent on phablets surged 334 percent higher, 2.9 times higher than the overall average. Time spent on mobile devices now exceeds that for television, Khalaf notes, while the fast growing popularity of phablets for media consumption sets up these devices as the cable industry's ¨digital nemesis.¨
Image courtesy of flickr user Jason Howie.