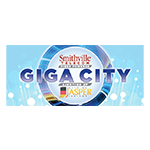 There is a land rush of sorts underway to create gigabit capabilities for towns and cities across the country. Rightly or wrongly, government and economic development leaders are quickly equating economic development and community competitiveness with the ability to offer gigabit services. It's the so called Gigabit Cities movement.
Many of these localities are venturing out on their own and building gigabit capabilities. President Obama ventured into this controversial movement last week, advocating for more community broadband initiatives, including calling for more public-private partnerships to achieve them.
Gigabit Public-Private Partnership
There are some interesting public-private partnerships emerging, including the City of Jasper, Indiana. Jasper decided a while back to issue an RFP for connecting their municipal building locations with fiber connectivity. About mid-way through that process, Jasper decided to expand the RFP to include a FTTP network throughout the entire city that could deliver Gigabit services.
Independent broadband provider Smithville Communications won this RFP, and in partnership with the City of Jasper has embarked on a three year project to bring gigabit services to Jasper's 15,500 residents.
Smithville will build an active Ethernet based FTTP network, with full symmetrical gigabit capability, completing about one third of the project each year for the next three years. Smithville already operated a business focused CLEC in Jasper and Frontier and Time Warner Cable also offer service in the city.
"This is a great example of a partnership where you take a city's public assets and partner them with a service provider's ability to deliver broadband services," says Cullen McCarty, Executive Vice President of Smithville Communications in an interview.
The public assets that McCarty is referring to include rights-of-way, pole attachments, conduits, and overall "red tape" avoidance, among other things. The City of Jasper also operates the municipal electric utility, further enhancing their ability to contribute to the FTTP project.
"We're happy and excited about this project," says McCarty. "We believe it can be a model for Gig city public-private partnerships."
Beyond partnering to get the network built, McCarty says the two are talking joint marketing efforts. Jasper has a billing relationship with every citizen thanks to the municipal electric utility that can be exploited for marketing purposes, for example.
"We're even thinking about truck wraps promoting the service for their vehicles," says McCarty. McCarty says that municipalities should look to these types of partnerships first, particularly through public financing models like tax increment financing (TIF), before trying to build and operate their own network.
"I hope this is a model that gets the discussion going about more public-private partnerships for municipal broadband," says McCarty.
It's not a surprising view, given Smithville is in the business of providing broadband services and may see the rise of municipal broadband as a potential competitive threat.
Jasper does join a list of other public-private partnerships for Gig Cities, including Ting, among many others. There are a number of partnerships in the planning stages, including a large part of the state of Connecticut.
Gigabit City Opportunities for Rural Providers
Beyond the potential competitive threat, McCarty sees the Gig City movement as an opportunity for companies like Smithville. In fact he says they are quite active in searching for other public-private partnerships with other communities throughout Indiana.
"We're actively engaged in other discussions for joint public-private partnerships, even at the neighborhood level," says McCarty. "We've even partnered with a home owners association to build FTTH to a rural neighborhood."
I asked McCarty if he thinks the Gig City movement and the need for public-private partnerships represents a good growth opportunity for other existing independent rural broadband providers.
He responded emphatically yes, but worries not enough are pursuing it.
"I don't think enough rural providers are looking at this," says McCarty. "We have to be open to different ways of doing business."