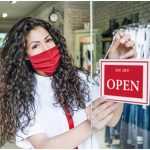 More than half (56%) of small- and medium-sized businesses feel that they will emerge as strong or stronger from the COVID-19 pandemic, while less than 8% "were pessimistic or anticipating permanent closure," according to an SMB technology survey conducted by Independence Research that was commissioned by Atlantic Broadband, the nation's eighth largest cable operator.
Research findings point to customer support as a key priority. Faster Internet was second over lower prices. Small businesses "are looking for true partnership from their vendors" in the era after the pandemic ends. On the technical side, interest in Gigabit Internet and higher upstream capacity has grown.
Other key findings include: 
More than 18% said they were forced to temporarily cease operations during COVID-19. 

Fifty-two percent indicated that working from home is not an option for their employees, while 15% said that at least some portion of their workforce will continue to permanently work from home in the aftermath of the COVID-19 outbreak. 

Fifty-six percent of businesses feel prepared for a second wave of COVID-19, while 21 percent of respondents feel unprepared.
About two-thirds will maintain their 2020 IT spending at a constant level; those pledging an increase barely beat those anticipating cuts (19% to 17%). The two main areas of IT spending are video conference and collaboration technology, followed by Internet upgrades and cyber security.
The world definitely has changed during the past five months. "We are seeing SMB owners and IT leaders stepping back to try to refocus their priorities and spending as they emerge from the crisis phase of COVID-19," Independence Research Founder and Principal Analyst Matt Davis said in a press release about the SMB technology survey. "Many of these businesses are planning to maintain or increase their technology investments, but they will direct spending on technologies that will directly impact their success post-pandemic. More importantly, they'll be looking for technology partners that can guarantee reliability and quality service."
The optimism found by Atlantic Broadband's sponsored research is mirrored by a feeling among SMB customers that want SMBs to survive – but are being careful. A survey by Cox Small Business last month found that 68% of customers want to support small businesses in their communities and 70% plan to do so as the crisis abates.