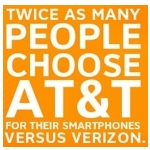 Verizon has come out 'guns a blazing' against AT&T and the iPhone recently. They've launched two campaigns, "There's a Map for That" and "Droid Does," ahead of their November launch of an Android powered smartphone to compete with AT&T's iPhone.
The first glimpses of an AT&T response are now showing up on AT&T's website. AT&T claims "twice as many people choose AT&T for their smartphones than Verizon." They go on to list AT&T smartphone advantages including a "faster 3G network" and better global coverage, among others. AT&T is focusing their efforts and comparisons on smartphones only and has launched a 'smartphone center' which highlights their smartphone portfolio, which is obviously led by the iPhone.
We're witnessing a precursor to what could amount to a pretty intense battle between the two U.S. wireless behemoths over lucrative smartphone subscribers. Stay tuned.