Eight in 10 U.S. smartphone users (81%) stream video on their mobile devices, according to a smartphone streaming survey from NPD.  Leading the pack are young users age 25 and under, who spend twice as much time as older users streaming video via YouTube and Netflix mobile apps, an NPD press release said.
Those younger mobile video viewers consume more mobile data than their older counterparts as a result. NPD determined that on average younger users consume 6.2 GB of combined cellular and Wi-Fi data monthly as a result of streaming video. That compares to 4.9 GB for older smartphone users.
Most mobile video streaming crosses Wi-Fi networks, but smartphone users are increasingly relying on cellular networks, NPD continues. Analyzing data collected via its opt-in Smartmeter application, the market research group determined that the average U.S. smartphone user consumes nearly 3 GB of cellular data per month. Streaming video app use is the single largest contributor.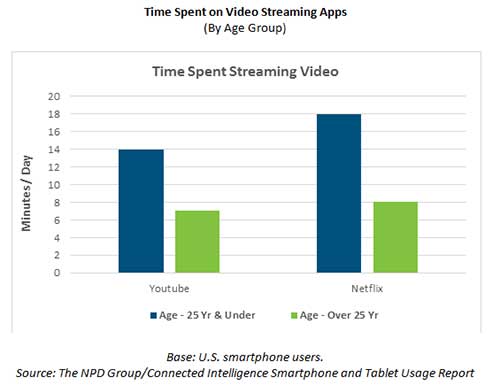 "Users are spending more time watching videos on their smartphones than ever before, as the adoption of smartphones that boast larger displays increases, NPD Connected Intelligence Mobility practice director Bradd Akyuz elaborated. ¨This mobile streaming behavior is further bolstered by the new offerings of wireless operators, such as T-Mobile's Binge On and Verizon Wireless' go90, which run on free sponsored data."
From a broader perspective, mobile phones and tablets accounted for nearly half (46%) of overall online video viewer numbers worldwide as of year-end 2015, according to Ooyala's Q4 2015 Global Video Index.
Image courtesy of flickr user Kirill Kniazev.