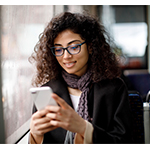 The average Apple smartphones have been active for 18 months and the average Samsung device for 16.5 months, according to new smartphone purchase research from Strategy Analytics.
The firm said that Baby Boomers are delaying their smartphone purchases for three-plus years while 20% of Caucasians plan to keep their phones for three or more years.
"Operators and device brands face significant inertia given consumer perception of diminishing innovation or marginal value add in successive generations of flagship devices," said Strategy Analytics Senior Vice President at Strategy Analytics David Kerr in a press release. "At the same time vendor pursuit of profitability has seen smartphone prices rising towards and above $1,000. Prices for 5G phones will be a key barrier despite 1 in 4 recognizing it as being important for their next device."
Strategy Analytics Director Linda Sui said that "wow" features are important to one in three buyers, with Hispanic, African American and Gen Z groups most interested. Customers who spent more than $1,000 on their phones also desire such features and new network technology. They only represent 7% of those surveyed, however.
Other findings from the research:
Apple and Samsung are dominant with brand loyalty above 70% with a huge separation to second tier vendors LG and Motorola with repeat purchase intentions below 50%.
Apple dominates Hispanic and Asian markets with market share above 50%.
Samsung leads in market share among Gen X but trails Apple by almost 40 points among Gen Z in terms of purchase intent.
Camera features, quality are significantly more important to women and Gen Z users.
A growing demand for better tools to manage time and unplug from "always on" is seen especially in Gen Y and Gen Z.
The research focused on age groups from 18 to 24 years (Gen Z), 25-39 years (Gen Y), 40-54 years (Gen X) and 55-64 years (Baby Boomers). It also looked at gender, ethnicity, the price paid for the person's current phone and the replacement cycle. It included 2,500 device owners.
The dynamics of smartphone sales is changing and mostly seems to be leading to people hanging onto devices longer. The big advances in functionality, such as cameras, have slowed down to incremental improvements. In addition, people may hold onto phones longer in anticipation of 5G, the latest great leap forward.
There also is confusion. Last month, Decluttr reported that 43% of Americans spend $500 or more on their phones, but that most don't understand all the features on their new devices. In addition, about one-third of Americans think that they have a 5G device, despite the fact that in most cases this is not true.