Smartphones are a big business in more ways than one. Of course, the category is worth billions of dollars. According to new smartphone preferences research, the smartphones themselves are also growing bigger.
Strategy Analytics' User Experience Strategies (UXS) group found that consumers in the U.S., western Europe, China and India prefer flagship devices that are 5 inches to 5.5 inches. All the markets show greater interest in larger devices.
"The primary drivers for larger displays are likely to be stemming from greater productivity and entertainment capabilities, thinner more ergonomic smartphone designs, increased screen resolution, clarity, and quality, and the overall increase in resourcefulness," Christopher Dodge, UXS's Associate Director and the author of the report, said in a press release about the smartphone preferences research. "Smartphones are becoming the control hub for more and more connected devices/services." A larger percentage of respondents in the US and Western Europe found larger devices to be an ideal size in 2018, compared to 2017.
Smartphone Preferences
Device size always has been an issue. In the early smartphone days, smaller was considered better. As Dodge commented, use cases drove bigger displays and, hence, bigger phones. Another issue is that the things smartphones are used for increasingly are energy-intensive. Strides have been made in battery science, but powering those apps while keeping times between recharges reasonable always has been a struggle. The larger devices enable bigger batteries and relieve some of that pressure.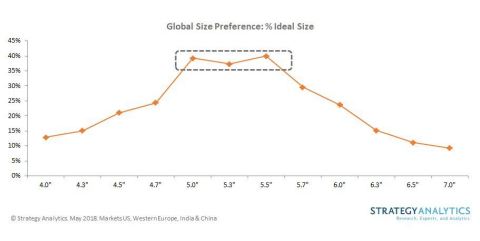 This report jives with one released by Strategy Analytics last December that said smartphone users in the U.S. and U.K. favored devices with a display of 5.3 inches. In October 2015, J.D. Power noted the same trend when it found that satisfaction with screen sizes of more than 5 inches was higher than for phones with screen sizes of 4 inches or less.