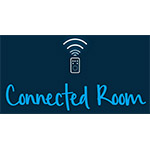 Hilton has launched what the hotelier says is the first-of-its-kind, high-tech guest room that enables guests to personalize and control every aspect of their stay from their mobile devices. Called Hilton Connected Room, the solution is currently in beta at one location and is to be launched in the coming weeks at several more sites. Hilton expects to rapidly deploy the solution across the U.S. in 2018.
Guests at Connected Room-enabled properties will be able to use the Hilton Honors app to manage most things they would traditionally do manually in a room, from controlling the temperature and lighting to the TV and window coverings. Guests will also be able to personalize their room with technology that loads the most popular streaming media and other accounts to in-room TVs.
Hilton Connected Room
Hilton Honors members are already using the app to check in, select their room and open their hotel room's door with Digital Key. The hotelier said that Hilton Honors members have used the app for 34 million digital check-ins, 4 million room key downloads and more than 18.7 million doors opened. In the month of October, a door was unlocked with Digital Key every 1.5 seconds.
Connected Room will eventually support a range of connected devices, engagements and experiences, according to Hilton. Guests will able to use voice commands to control their room or access their content, as well as being able to upload their own artwork and photos to automatically display in their room.
"Innovation has been in Hilton's DNA since entrepreneur Conrad Hilton purchased the first Hilton property and pioneered the hospitality industry nearly 100 years ago," said Christopher J. Nassetta, president and CEO of Hilton, in the press release announcing the new solution. "Many innovations later, we are once again setting a new standard for the industry by giving our guests a travel experience where the room knows them, and they know their room."