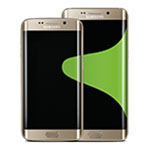 Habitual smartphone use is now ingrained in societies worldwide. According to new smartphone habits survey results from ReportLinker nearly half – 46 percent – of Americans said they check their smartphones first thing in the morning while they're still in bed.
The early morning smartphone fix is even more prevalent among young adult Millennials, two-thirds of whom (66%) said they check their smartphones as soon as they wake up and are still in bed. In addition, 28 percent said they check their smartphones while eating breakfast.
Once they turn them on, Americans use their smartphones throughout the day and on through the evening. Three-quarters of all U.S. respondents to ReportLinker's survey said they keep their smartphones active all day and night. More than 8 in 10 Millennials (83%) said they do so.
Deloitte highlighted the extent of Americans' growing smartphone habits in 2015 market research. Differing substantially from ReportLinker's latest survey results, Deloitte found that 17 percent of respondents said they check their smartphones immediately upon waking up.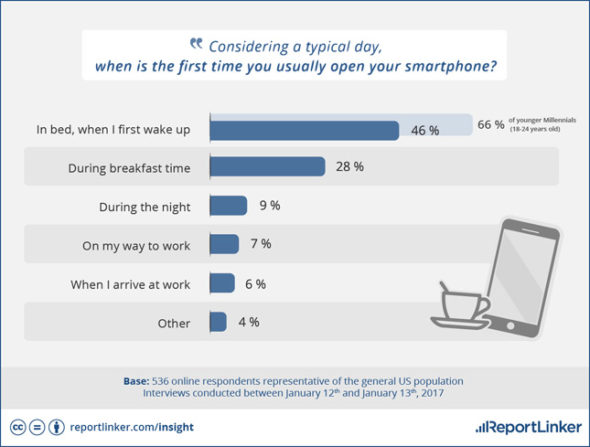 That was up from 14 percent in 2014. More than 4 in 10 (43%) said they check their phones within five minutes of waking up, up from 39 percent a year ago.
Smartphone Habits Survey
Despite emergence of the "bring your own device" (BYOD) trend, Americans tend to limit use of their smartphones while in the workplace. More than half (56%) of US respondents to ReportLinker's survey said they limit personal smartphone use while at the office.
That said, 60 percent of Millennials – and 66 percent of older Millennials – admitted they use their smartphone at work for personal matters.
When it comes to smartphone activities, connecting with friends and relatives is the first thing Americans have on their minds when they first boot up their smartphones for the day. More than 3 in 10 in the ReportLinker survey said they open email first. Another 30 percent said they open social media apps first.
Furthermore, 37 percent of survey respondents said that most often they use their smartphones to make phone calls. Twenty-six percent said they use them most often for text messaging. Among smartphone app types, social media app usage was most common.
Turning to popular smartphone models and manufacturers, 37 percent of respondents to ReportLinker's latest survey said they own an iPhone. One-third said they own a Samsung smartphone.
Designed for mobile use, smartphone use has also been rising inside homes and other venues. In a recent study, Pew Research Center found that some 13 percent of U.S. adults were smartphone-only Internet users in 2015, up from 8% in 2013.
Given all this, it's not surprising that market analysts expect smartphone use will continue growing. Juniper Research in December released a forecast predicting that smartphone data usage will rise sharply, to 5 GB/month, and annual cell phone data traffic will grow to reach 129,000 petabytes by 2018.