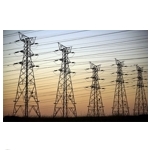 Depending on whom you ask, SmartGrid for telco broadband carriers is either the next great golden broadband opportunity or a relative distraction in the overall broadband scheme. Like most things, reality fits somewhere in the middle of these extremes. For those who haven't been following this important trend, SmartGrid in simplistic terms, converges broadband and IP networking with the nation's electrical grid and creates some interesting opportunities as a result.
I attended the recent Utilities Telecommunications Council Telecom 10 conference this week and as you can imagine, SmartGrid was high on the agenda. I was struck by the pace of innovation that is now occurring in the utilities industry, thanks in large part to SmartGrid. UTC Telecom 10 felt very much like a traditional telecom industry show with the discussions of 4G wireless, home area networking, and broadband implications all on the agenda.
One question which permeates throughout both the utilities and telecom industries is how the two should coexist relative to SmartGrid? Should electric utilities turn to existing broadband carriers for network capacity and expertise when building their own SmartGrid capability? The logical answer would be yes, in my opinion. But we all know that logic is sometimes over rated.
In this case, you have to go beyond logic and look at the details. Electric utilities have some very specific requirements along the lines of access, security, reliability, survivability, and responsiveness that will have to be addressed by whatever broadband network solution they choose to deploy. Answers to those questions (and many others) will determine whether they partner or go it alone relative to SmartGrid networks.
Telecom broadband carriers will need to be in a position to listen to and address these needs and concerns in a flexible manner, before discussions can even begin. Both participants will have to have open minds and may need to check egos and preconceived notions of each other at the door before those discussions can begin as well.
For telecom broadband carriers, taking notice of SmartGrid does have increasing importance. Here is what we do know — SmartGrid will happen and will inject significant broadband and IP networking capabilities into the electric utility industry, with or without the participation of existing telecom broadband carriers.
I would suggest the right plan of action should be 'with.' Determining how 'with' can happen and what realistic business opportunity it brings is the order of the day. Stay tuned to Telecompetitor on this important issue. We plan on covering it in much more detail in the coming months.