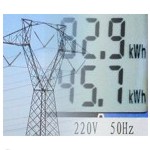 Oklahoma's largest electric utility, OG&E, is  about to build its own broadband network, courtesy of SmartGrid. The utility announced on July 13 that Alcatel-Lucent will build a private wide area network (WAN) to support its smart grid build-out. Joining Alcatel will be Osmose Utilities Services and the ABB Group, which will conduct an inventory of the utility's distribution network and provide a distribution management system, respectively, according to a joint press release.
OG&E carried out a competitive bidding process for its Positive Energy Smart Grid program following its approval by the Oklahoma Corporation Commission on July 1. The utility expects to have smart grid capabilities across its entire, 30,000 square mile, service territory in Oklahoma and western Arkansas, which serves more than 775,000 customers.
The smart grid will include include automation devices on the electricity distribution system, a local area network of smart meters and smart devices in customers homes or businesses. Alcatel-Lucent and OG&E's WAN team will build a multi-tiered IP/MPLS based wireless network that will carry "two-way data from smart devices on the power delivery distribution system to enable real-time automation and advanced metering, a core element of the overall smart grid communications network." The WAN will include a 6.0 gigahertz, point-to-point microwave backbone along with a 3.65 gigahertz point-to-multipoint layer, according to the companies.
The development is illustrative of the growing SmartGrid movement and its potential impact on the broadband landscape, both from a broadband access point of view, and within the home, with home area networks. Utilities are increasingly looking for broadband solutions for their smart grid initiatives, and some/many will choose to build rather than partner.