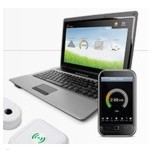 The promise of SmartGrid is more than just about automated meter reading. It is also enabling SmartGrid apps through the collaboration of communications, developers, and utilities. Case in point — UK-based ip.access, a developer of femto- and picocell technology, has joined forces with smart home energy management software developer AlertMe.com to demonstrate how integrating their products can provide homeowners customized control of their home's power usage in unique ways.
In a live demonstration, the two use ip.access's femtocells, AlertMe's software and residents' mobile phones to automatically detect when people leave or enter a home and control electrical devices, such as lighting or an electric kitchen range, to preset levels, or to adjust them remotely using preprogrammed keystrokes.
"The mobile phone is increasingly the remote-control for your life. Most people carry their handset everywhere they go, making it an ideal control device for the AlertMe Energy service. And because everyone already has a mobile phone, there is no extra cost involved," AlertMe.com founder Pilgrim Beart said in a news release.
The AlertMe Energy service allows electrical appliances to be controlled via the Internet, something the two companies believe "are set to become a part of everyone's lives in the near future," particularly in the EU, where smart energy metering and controls are part of new regulations, they note.
For its part, ip.access has extended the use of its femtocells and integrated them with AlertMe Energy. Detecting the presence or absence of a mobile phone, the femtocell automatically switches lighting, and/or other electrical appliances on and off based on preferences set by the user.
"One automatic trigger could be to switch the kettle on as soon as you arrive home," elaborated Dr Andy Tiller, VP Marketing at ip.access. "But there is a lot more to this than just tea and convenience.
"Using a femtocell to personalize supplementary services codes is a new and unique idea," he said. "It enables the mobile phone to become a powerful controller for all kinds of applications in the home. And because it's a network-enabled feature, it works with any handset – there are no applications to install."