Sponsored Content
About Nokia
At Nokia, we create technology that helps the world act together. As a B2B technology innovation leader, Nokia is pioneering networks that sense, think and act by leveraging our work across mobile, fixed and cloud networks. In addition, we create value with intellectual property and long-term research. Service providers, enterprises and partners worldwide trust Nokia to deliver secure, reliable and sustainable networks today – and work with us to create the digital services and applications of the future.
As more people work from home post-pandemic, use connected appliances, and stream video—all trends that are on the rise—residential Wi-Fi has become vital. And as communications service providers (CSPs) seek to create revenue streams, increase efficiency, and improve the customer experience, Managed Wi-Fi has become a key offering.
According to a report by Global Market Estimates, from March 2023, Managed Wi-Fi revenues will nearly double in the next five years. This means that managing the demands of your network performance and your customers' expectations will become more important than ever.
That's why Nokia is proud to announce Corteca. In the human brain, the cerebral cortex is responsible for intelligence. Corteca is an intelligent technology that drives broadband devices and delivers a superior customer experience through three primary components — Corteca Applications, Corteca Cloud and Corteca-Powered Broadband Devices.
Corteca Applications
Corteca applications, like cybersecurity or gaming optimization, can be installed on broadband devices for specific users or all users. These applications are available through the Corteca Marketplace and are designed by Nokia, or Nokia's third-party developer partners, including top names like F-Secure, Netduma, and mLabs. Taking the example of cybersecurity installed on the broadband device—this creates a win-win situation: customers don't have to install and update cybersecurity on their own, and providers have a new revenue stream.
The Marketplace also facilitates the go-to-market of the applications: CSPs can browse the application catalog, install them in bulk, or only install them for specific households.
Corteca Cloud
Corteca Cloud features the Home Controller and the Console.
The Home Controller allows CSPs to manage customers' Wi-Fi networks remotely with automated optimization capability. A Home Controller algorithm analyzes user data and automatically optimizes customers' Wi-Fi settings for the best experience.
The Console is a browser interface that lets CSPs access the Home Controller based on specific user roles:

Customer service representatives (CSRs): Single-household access with a real-time view of the home network.
Onsite technicians: Household data that helps adjust a customer's network while technicians are in the home.
Network admins: Network-wide view of Home Controller data for deriving KPI reports and monitoring the big picture.
Corteca-Powered Broadband Devices
Corteca-Powered Broadband Devices are connected to the Corteca Cloud, so they can optimize the local Wi-Fi network automatically and fix issues before customers know they exist. With self-installation using the Corteca mobile app and a QR code, device serial numbers and models are recognized and setup is automatic.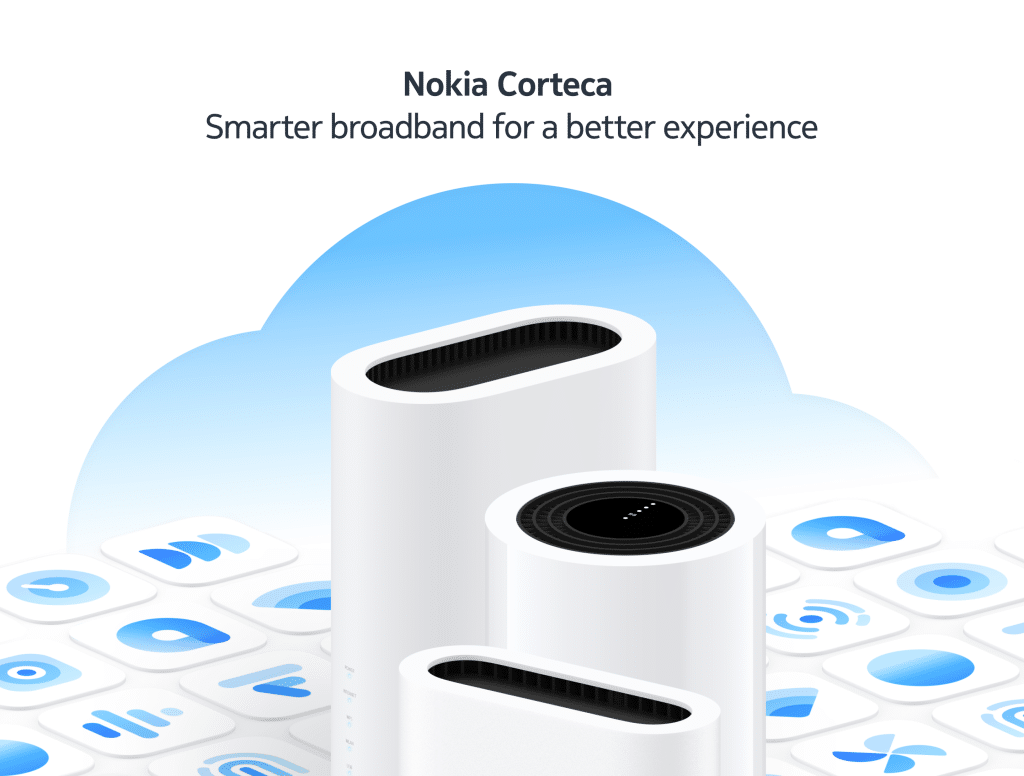 Provider and Customer Benefits
Corteca is a groundbreaking innovation with three primary benefits for providers and customers:
Unlock new revenue streams: Customers will gladly pay for cybersecurity, gaming optimization, and other benefits of Corteca. And these applications can be bundled with higher-tier broadband subscriptions, driving more people to those subscriptions.
Deliver an exceptional customer experience: Combined local and cloud-based optimization enhances support, as network issues are solved in real time. Nokia's market tests demonstrated a 20% increase in net promoter score for people using Corteca versus another brand. Nine out of 10 customers reported an improved Wi-Fi experience.
Reduce operational costs: Corteca saves you time by optimizing Wi-Fi networks automatically and putting the right tools in the hands of CSRs, technicians, and network admins. And, since the Home Controller supports USP, it can also manage non-Nokia devices. Nokia market tests indicated that 8 out of 10 customers didn't need support during or after installation and that the average CSR call handling time was halved.
Corteca will change how communications service providers offer and manage Wi-Fi, while generating more revenues and lowering their operational expenses. Corteca is smarter broadband for a better experience. Explore Corteca today at https://nokia.ly/44nIWZa.