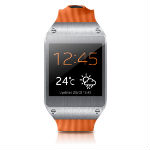 Internet technology and consumer goods designers and manufacturers are looking to "smart" wearable devices, such as smart watches and health and fitness monitors, to provide a big boost to and set a new standard for digital living.
"The display panel market for all types of wearable electronic items is forecast to enjoy very rapid growth in the years to come," according to a report from IHS. The market research company forecasts that industry revenue will grow over 80 percent annually for at least four more years, rising from $300 million this year to some $22.7 billion in 2023.
Smart Wearables Forecast
Unit shipments of smart wearable devices will surge higher, increasing from 54 million in 2014 to 800 million in 2023. The introduction of high-resolution and color displays will help fuel growth, according to IHS.
Smart wearable device designers and manufacturers showcased some of their latest wares at the IFA 2014 European consumer electronics show in Berlin last month. Motorola, along with leading Asian manufacturers including Samsung, LG, Sony and Asus, showcased new proprietary smart watch offerings at IFA, IHS notes. Apple, which wasn't present, unveiled its own smart watches a few days later.
Samsung introduced the Gear S smart watch, while LG launched the G Watch R, which has a completely circular screen with a 1.3-inch diameter whose area is 57 percent greater than a square screen.
"The sleek P-AMOLED panel," IHS highlights, "is less than 0.6mm thick and features 320 x 320 resolution, 100-percent color gamut, 300-nits peak luminance and unlimited contrast ratio, typical of an organic light-emitting diode (OLED) display."
Motorola's Moto 360 also comes with a round screen. Both LG and Motorola's new smart watch designs use Android Wear "as extensions of the Android smart watch ecosystem," IHS notes. The Samsung Gear S, in contrast, runs on Samsung's Tizen operating system.
The long-awaited Apple Watch, which has a square display, is slated for availability in early 2015 at a starting price of $349. Though detailed specs aren't available yet, Apple Watch's display is likely to be OLED as Apple is touting its flexibility, high energy efficiency and very high contrast in its advertising, IHS says.
Commenting on the latest round of design innovations in smart wearable devices, IHS Senior Director for Research and Display Aweta Dash stated, "Wearables are best viewed as functional fashion accessories rather than as electronic goods. But because the fashion accessory market is determined by design rather than by simple function, wearable products such as smart watches must be adaptable to various forms including squares, circles or even ovals."
There are three essential elements for smart wearable devices, Dash continued: outdoor visibility, low power consumption, and flexibility in form factor and design. On the horizon are stretchable panels and other innovations that "can meet even more demanding designs in wearables, creating possibilities for exotic shapes and forms."
Most of the current crop of consumer wearables isn't really ready for mainstream consumer adoption, IHS analysts believe.
"The smart watch models shown at IFA and Apple's offerings alike are all expensive and lack the kind of affordable pricing to make them universally appealing," IHS states. "Moreover, a clear value proposition is needed before consumers fully accept the design and available applications provided by these new time pieces to replace the trusty traditional watches of old."