User experience is the driving factor behind smart TV and streaming media preferences, according to a smart TV preferences survey from Parks Associates.
Nearly half (45 percent) of all broadband households in the U.S. already have a smart TV, according to the research firm.
Smart TV Preferences
The report also says that as smart TVs expand their digital content sources, the need for additional connected entertainment devices, like smart Blu-ray players declines. While streaming media players (SMPs) have seen strong growth in recent years, they too are susceptible to this trend in the long run.
"Better navigation to content will cement the smart TV's role as the main connected entertainment platform in the household," Parks Associates added in the report.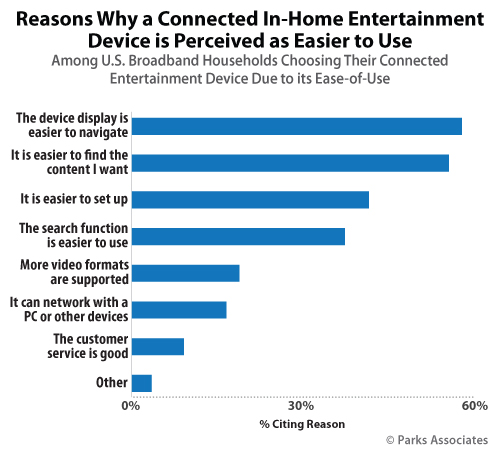 Voice controlled personal assistants also could play an important role in the smart TV market. When asked to specify home devices and services they would most like to control with a personal assistant, one-third of smart TV owners selected that product among their top five devices they would most like to control with a personal assistant. Yet device manufacturers have dropped the ball in this area, doing little to develop and promote voice control, though Comcast and Roku are promoting their voice control capabilities, the researchers noted.
"Eleven percent of U.S. broadband households have a strong intention to purchase a 4K/Ultra HD TV this holiday season, but overall, device sales of flat-panel TVs have flattened out," said Jennifer Kent, Parks Associases director of research quality and product developments, in a prepared statement. "As a result, we are seeing new partnerships among device manufacturers focused on ways to improve or refresh the UI of the smart TV, to make the device easy to use and a single point of content in the living room."