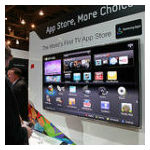 Fully one-third of the world's smart TVs are now compatible with the Smart TV Alliance's development toolkit, the alliance said. Developers registered with the Smart TV Alliance are using its Common Developer Portal to develop apps for some 58 million smart TVs, the industry association announced January 5 in conjunction with this week's International CES.
Over 6,000 developers have registered to develop and publish smart TV apps via the Smart TV Alliance Common Developer Portal since its launch in June 2014. With membership registrations increasing at an average 1,000 per month, Smart TV Alliance-registered developers will fill "a pipeline of new multi-manufacturer smart TV apps in 2015," the industry association states.
Smart TV Alliance
Touting the benefits of using the Smart TV Alliance platform, Ngine CEO Bertrand Issard said: "We always leverage the Smart TV Alliance platform for the development of our apps. Their common process grants us certification and publication of our apps on four out of five major TV brands in one go, saving us significant time and resources versus what we used to invest in the past. It is a no-brainer."
Added Tamir Goren, vice president of the Digital Media Group at TransGaming: "Our product development across multiple platforms is further enabled by the momentum and unity generated behind the Smart TV Alliance, which we are proud to be a part of.
"Working through the Smart TV Alliance developer portal continues to expand TransGaming's reach to millions of consumers while further promoting GameTree TV as the de-facto gaming solution for Smart TVs."
Leading smart TV manufacturers LG Electronics, TP Vision and Toshiba launched the Smart TV Alliance in 2012 "to create attractive, platform-independent services for smart TV applications…and create a large and productive ecosystem for smart TV application development."