A shade under half (49%) of smart speaker users say they cannot imagine living without the devices, according to smart speaker user research from Strategy Analytics.
The report, entitled "Smart Speaker User Survey—Global Results," also found that 65% said that smart speakers have greatly improved the way they use technology at home and 70% found smart speakers much more useful than they expected. On the negative side, 63% are concerned that smart speakers could record sounds and conversations without consent.
Smart speakers clearly are fulfilling their promise. "For most users, smart speakers have already become one of the most important technologies in the connected home," said David Watkins, the Director of Smart Speakers at Strategy Analytics, in a press release. "The convenience and simplicity of voice control and interaction have helped to change the way people are using different devices and have important implications for how applications, services and content will evolve in the future."
Smart Speaker User Research
Key findings of the smart speaker user research:
When controlling technology, voice control is preferred to a touchscreen by 67% of smart speaker users.
More than half of smart speaker users have installed more than one device in their home. The most popular location is the living room or family room (64%), followed by the bedroom (33%) and the kitchen (29%).
The most popular applications are listening to music or radio (91% do this at least weekly), getting weather information (73%), finding out general information (69%) and listening to the news (67%).
82% of homes with smart speakers use at least one Amazon device while 29% use a Google product. JBL (7%) and Apple (6%) come next.
25% of people who don't currently use a smart speaker say they will buy one within the next year.
The survey was compiled on the input during July and August of 4,013 users in the US, France, Germany and the UK.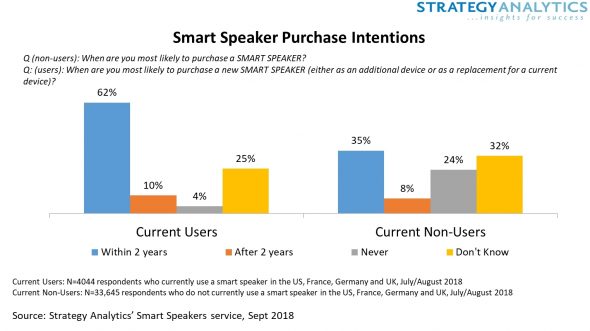 Strategy Analytics is not the only firm that has noted the popularity of smart speakers. In June, IDC said that the smart home device market will grow 26.8% this year over last. The leading drivers are smart speakers and video entertainment products, which will represent 71% of the overall market in 2018.
The previous month, Strategy Analytics said that Amazon shipped about 4 million smart speakers during the first quarter of 2018, almost half the 9.2 million units shipped during the quarter. Amazon's market share was almost cut in half and fell below 50%, showing that the category is increasingly competitive. Google is the other major player.