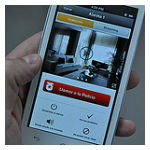 Safety and comfort are the two main attributes U.S. homeowners are looking for and value most when it comes to smart home products, according to results of a smart home survey from Scripps Networks Interactive released last week.
In a news release Scripps said American homeowners are interested in using new technology to improve their homes and quality of life. In addition to safety and comfort, their list of most desired attributes in smart home products included efficiency, value and convenience.
Just 18 percent of survey respondents cited the desire to meet others' expectations as a motivation for purchasing smart home products. In contrast, nearly 7 in 10 (nearly 68%) cited energy efficiency as a motivating factor insofar as improving their homes' energy efficiency would pay-off in savings, as well as translate into higher resale value and conform with social pressure to be environmentally friendly.
Among age groups, Millennials are looking for smart home tech that makes performing daily tasks more convenient. Gen Xers, on the other hand, are looking for smart home products that can create a healthy home environment. Baby Boomers are looking to add value to their homes, Scripps highlights in a news release.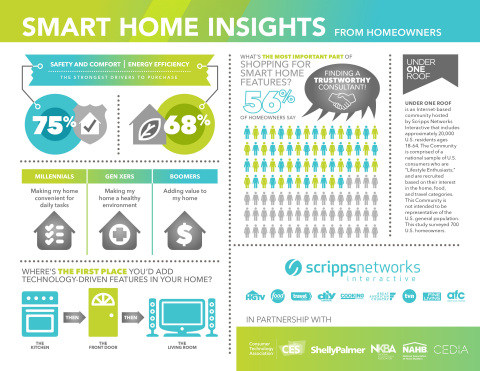 Inside homes, the kitchen stood out as the room in which most survey respondents said they would add smart home products, with one-quarter choosing it. That rose to 28 percent of Gen Xers and 27 percent of Millennials. Just under one-quarter (23%) of Baby Boomers chose the kitchen.
Among smart kitchen products, smart refrigerators and app-enabled appliances, voice-activated wireless speakers and motion sensor lighting were the top choices.
The front door or entryway was respondents' second choice location to install smart home products, with 15 percent choosing it. The living room followed at 13 percent.
Smart Home Survey
Consumer interest doesn't necessarily translate into purchases, however. Forty-four percent of respondents said they would like to install smart energy automation and lighting products in their homes. Just 11 percent said they have firm plans to do so, however.
Smart home energy management and lighting products topped the list of smart home projects. Mobile-connected or computer-controlled home systems, doorbell cameras and surveillance systems also ranked high. In addition, one-third or more said they wanted to add home audio automation, HVAC automation, motion lights and a security system to their home.
The market research was conducted as part of Scripps Networks Interactive's Under One Roof program, an Internet-based community that includes 20,000 U.S. residents ages 18-64 hosted by Scripps.
Other key highlights include:
Finding a trustworthy consultant to help with smart home purchases is an extremely important part of the consumer journey:
As homeowners consider smart home technology, more than half said they want to find a professional to help them make the right decisions.
In the process of adding smart home tech, homeowners also expressed importance in professional installation and education, having product demonstrations and trial periods of use.
While expense is the top barrier to purchase, respondents also cited tech phobia and an overwhelming number of choices as other deterrents.
Millennials, followed closely by Gen Xers, are the most likely to add smart home technology to their home:
85 percent of Millennials indicated they are likely to add smart home technology to their home, more than half within the next year.
73 percent of Gen Xers are likely to add smart home technology, 38 percent within the next year.
67 percent of Boomers are likely to add smart home technology, 28 percent within the next year.