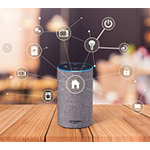 Nearly three quarters (71%) of U.S. households own a connected entertainment device, with many owning multiple devices, according to new research about smart home service provider opportunities research from a Parks Associates whitepaper, sponsored by Calix.
Smart Home Service Provider Opportunities Research
"The average U.S. broadband household owns more than ten IoT devices, crossing entertainment, smart home, and health use cases," said Denise Ernst, vice president, Parks Associates, in a prepared statement. These trends, combined with innovations in cloud technologies and service provision, create real opportunities for service providers to enter the smart home space with offerings that provide flexible support options and protections for a household's data and privacy.
Among other findings:
26% own at least one device from a list of common smart home devices
46% own a connected health device
When a household buys one connected device and the experience of setup and daily operation goes smoothly, more purchases will follow
Owners of smart speakers with voice assistants (such as Amazon Echo or Google Home) are three times more likely to own a smart home device than consumers who do not own smart speakers
Having multiple IoT devices in the home is becoming common—among consumers who own either a connected entertainment or smart home device, more than 60% have more than one
"In today's connected lifestyle, consumers value flexibility in their choices," Ernst added. "A service provider's ability to address consumers' problems in the method they prefer is a distinct advantage, particularly in today's IoT environment."
Image courtesy of flickr user Mike MacKenzie.