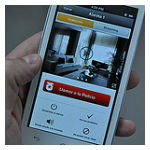 Nearly nine in 10 consumers see the smartphone as the controller for smart home devices, more than double the amount that see digital assistants such as Amazon Alexa and Google Home serving that purpose, according to a new smart home preferences report from GfK.
Unsurprisingly, the smartphone also ranks high when it comes to use in the home. More than eight in ten (83%) consumers say they use their smartphones at home, compared to 75% for laptops, 54% for PCs, and 34% for game consoles.
Even so, just over half (51%) of digital home assistant users say these devices are "extremely integrated" into their day-to-day lives. For many, the devices are relatively new. Three-quarters of owners bought their digital assistants less than a year ago.
Smart Home Preferences
"Consumers – especially Millennials and Gen Z – rely on their smartphones for 24/7 access to social connections, news, and much more," said Tom Neri, GfK commercial director of tech & durables, in a prepared statement. "So it is no surprise that people also see smartphones as Smart Home hubs – especially for the many appliances that allow controlling and viewing the home at a distance."
GfK's study also shows that worries about personal privacy represent a major obstacle to adoption for digital home assistants, with 35% of consumers citing this concern. For most other Smart Home categories measured, the top barrier to purchase was perceived cost; the only other product type where privacy was the top obstacle was Smart Health.
"While consumers have some concerns over smartphone privacy and security – such as being tracked via Location Services – there is clearly greater lingering worry about the voice listening capabilities of DHAs," Neri said in a prepared statement. "This may be one reason why our study shows digital home assistants scoring below smart coffee makers and light bulbs in owner satisfaction."
GfK's findings are based on 1,000 online interviews with U.S. consumers; the sample has been balanced by age, gender and region.