Smart home and digital consumer electronics developers are hard at work developing a new generation of smart devices, appliances, and equipment that rely on artificial intelligence (AI) to take the concept of personalization and digitally automated work and lifestyles to new heights, ReportLinker highlights in a new smart home owner survey.
Automated, voice and remote-controlled energy management technology adjusts lighting and temperature based on end user preferences, as well as on what is sensed in the surrounding environment. Smart sprinklers can switch on automatically, dispersing the minimum amount of water required to keep lawns lush and green, while smart refrigerators take stock of what's inside and notify you of what's lacking or in short supply, even if you're outside the home. They can even place online orders to restock and deliver the items as needed. Then, of course, there's smart home entertainment, a huge, fast growing market segment that just about anybody who's anybody in the business is keen to dominate.
Home, business, and organizational security is another main focal point for the development of new AI/voice-enabled devices and digital assistant software, ReportLinker highlights singling out French hardware manufacturer Netatmo recently joining with Velux to develop connected windows that will open and shut depending on the weather. Other, similarly endowed smart home tech will enable parents to watch and monitor their babies remotely, not to mention their pets as well.
According to ReportLinker's market research, nearly half of Americans consider themselves to be tech-savvy, or adept. That rises to 58 percent among young adult Millennials. Furthermore, smart home tech users tend to own more than one associated device – 3.4 on average.
Half of online respondents surveyed said they have one or two smart home automation devices installed at home. One-third said they had five or more. Among those cited were smart home appliances (20%), smart thermostats (16%), smart security systems (12%) and smart lighting solutions (10%).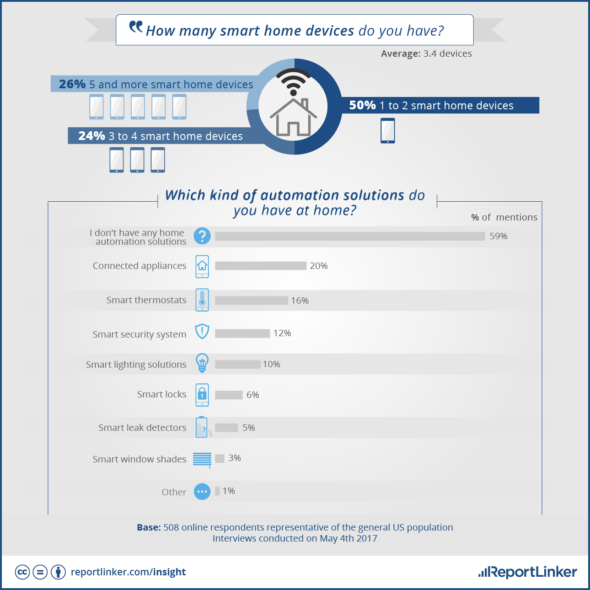 Nonetheless, the pace of technological innovation is likely to outpace that of end-user adoption, according to ReportLinker. Nearly six in 10 respondents said they did not have any smart devices installed in their homes.
Furthermore, one-third of respondents said they were not comfortable with smart technology. Older Americans are especially skeptical: 39 percent said they consider themselves to be technological novices or beginners.
More than six in 10 respondents who said they did not have a smart home device installed (63%) said did not have any plans to buy one. One-third said they did not see any benefits to purchasing one. Other concerns included cost (29%) and privacy (25%).
Smart Home Owner Survey
The smart home market has the legs for a long run, however, and it's still early days. More than half (54%) of survey respondents reported having owed their smart home devices from 1-3 years. Nearly one in five (19%) said they have had them less than one year.
Furthermore, those who said they did have smart devices or solutions installed at home said they do see benefits. More than one-third said it makes their lives easier. More than one-quarter (27%) said smart home energy solutions help reduce monthly energy bills.
Also noteworthy, ReportLinker found that using an app was the most popular way for Americans to interact with smart home tech. Nearly half (48%) of survey respondents said they did so as compared to 17 percent who said they use a wall-mounted control device.
Leading smart home tech vendors, such as Apple and Google, see smart home connected devices and apps as a means of "getting their foot in the door" (pardon the pun) and paving the path for them to develop entire "ecosystems" of smart home services, as well as products.
It may be quite some time before that vision is realized, however, according to ReportLinker's research. Just nine percent of survey respondents said they use online smart home hubs accessible via apps such as Amazon Echo, Google Home or Samsung SmartThings.
That could change as smart home and other smart device uptake and usage rises, and vendors roll out "all in one" smartphone apps, ReportLinker says. Apple and Google have already done just that, the market research provider points out.
ReportLinker points to a Wall St. Journal article written by Geoffrey A. Fowler as an indication of how developments are shaping up. "The future involves talking to your tech, and your lights are the first part of your home ready to make the leap," Fowler wrote.
"[I]n fact," ReportLinker continued, "one major impact of smart home solutions is that they are swiftly changing the way we interact with computers. For many consumers, the first step in adopting smart home technology is a voice assistant."
That view is echoed and elaborated on in new market research regarding uptake and use of digital assistants from Ovum Research. Ovum forecasts that the active user base of digital assistant software in AI and voice-enabled connected devices will surge higher from 2016-2021, rising to 7.5 billion, more than there are people in the world today.