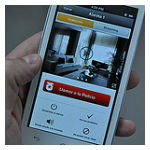 Industry enthusiasm and sentiment are high, but it has been rough going for Smart Home tech developers and vendors as they try to bridge the gap between consumer expectations and device/app performance, according to an analysis of smart home app reviews conducted by Argus Insights. The Argus approach is to analyze numerous smart home app reviews from retailer websites, social media and the like.
HomeKit, Nest, Vivint, Philips and others are among the leading vendors that have been touting the benefits and value of Smart home devices and apps in recent years, Argus Insights notes in its new Smart Home 360 report. There's a distinct gap in consumer perceptions of the apps offered by Smart Home service providers and MSOs as compared to the apps that come with DIY devices.
Vivint's Sky app, Cox Communications' Homelife, Xfinity Home and Alarm.com's app are ascending, Argus found in its analysis of over 56,000 consumer reviews. In contrast, ADT and Suddenlink's smart home apps were the least liked of those offered by MSOs. Both saw a drop in both the tone and volume of consumer feedback during the past month, an indication that users are frustrated and may be switching to other providers, Argus highlights in a news release.
Analyzing Smart Home App Reviews
Positive reviews of Vivint Sky slipped slightly during the past three months, but it remained the most liked of service-provider smart home apps used, given drops in sentiment for AT&T Digital Life and Time Warner Cable. Consumer sentiment for Xfinity Home showed impressive gains following the release of a new version at the end of March that addressed end-user issues with stability and remote access of camera feeds.
"While some people enjoy the challenge of setting up their own devices, our data shows that delight comes when the consumer is relying on service providers – at least for now – to do all the installations and connecting," Argus Insights' CEO John Feland was quoted. "The continued dominance of Vivint, and significant improvements by Xfinity demonstrate the impact of proactively engaging with customers on improving the user experience."
Smart home tech adoption is driven by three factors, according to the market research provider: Fear, fun and protection. ¨For Service Providers, the Fear factor drives Home Security as the key reason for purchase and use," Feland commented. "DIY consumers blend Function and Fear, with Climate Control being typically the gateway Smart Home experience."
Argus Insights' analysis also revealed a significant difference between consumer experiences regarding smart homes apps from service providers as compared to that for DIY apps:
Those using service provider smart home apps focus three times more on home security than their DIY counterparts.
Climate control is top of mind for DIY end-users.
Recent related research from Kelton Global and Research for Nest revealed that 8 in 10 Americans either own or are interested in purchasing a smart home device this year. Greater convenience was the primary motivating factor, cited by 54% of survey respondents. Increased security (44%), reduced energy bills (38%) and increasing the value of homes (21%) followed.