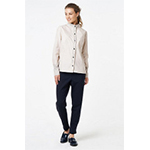 The smart clothing market will grow from annual shipments of less than 5 million units to more than 31 million units between this year and 2022, according to a smart  clothing forecast from ABI Research. The firm says that is a CAGR of 45%.
Clearly, the public sees the benefit from smart clothes, which use embedded computers to monitor heart rate, respiration, skin temperature, oxygen saturation and other bodily functions.
"The majority of smart clothing shipments will be primarily driven by consumer applications, with growing enterprise applications in worker safety and monitoring over the next few years," Ryan Harbison, Research Analyst at ABI Research said in a press release. "Today's market targets mostly sports professionals, as the clothing offers more accurate readings than other wearables because it is so close to the skin and other vital organs. As vendors expand the use case potential, the technology will prove its worth, cut its costs, and reach a wider array of both consumer and enterprise users."
Smart Clothing Forecast
Sensoria, OMsignal and Hexoskin are doing well by targeting specific markets and use cases, ABI notes. Big companies jumping in include Ralph Lauren, Google and Levi's. ABI expects tech companies to join the fray as well.
"Before smart clothing reaches mass adoption, the technology behind its embedded sensors needs to improve," Harbison said. "The sensors have to withstand conditions that other wearables don't, such as body sweat, wash cycles, and extreme temperature variances. Vendors will have to solve this through innovative manufacturing and do so before consumers voice these concerns."
A key differentiation is between sensors stitched into the garment and removable sensors. Sensors stitched in will have a working life limited by the number of times they are washed. Even the most advanced, the release says, may only withstand 60 or 70 washes.
In August, ABI said that revenue in the related enterprise wearable segment will increase by a factor of six between 2017 and 2022. The category, which includes smartwatches, smart glasses and scanners will increase in value from $10.6 billion to $60 billion in 2022.
Image courtesy of flickr user Veronika Korkushko.