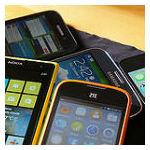 Rural wireless carrier buying consortium ACG will join the Sprint/CCA Device Hub program, Sprint announced today. The ACG Device Hub deal will give ACG's 31 rural wireless carrier members more access to smartphones and devices.
Rural and regional wireless carriers have always had difficulty in getting access to the latest devices due to their smaller scale. ACG was formed as a buyer's consortium to pool smaller carriers' buying power together to help overcome this challenge. Since its inception ACG has helped its members gain access to over 11 million devices.
CCA represents smaller regional carriers, as well as Sprint. The CCA Device Hub was launched several years ago to address this same device scalability issue for CCA's wireless carrier members. The program leveraged Sprint's device buying power, giving CCA member participants access to Sprint's Android-based device portfolio, including testing, certification, and distribution benefits.
This same program has now been extended to ACG.
ACG Device Hub
"Sprint is committed to helping smaller carriers get access to the devices their customers want," said Jay Bluhm, Vice President of Network Development and Engineering at Sprint in a press release. "We are excited for the new agreement with ACG to bring a combined device roadmap to regional carriers using procurement processes they are already familiar with and an activation process enabling these devices to work seamlessly on their networks."
Russ Lipinski, president and executive director of ACG, added, "This agreement is another critical step in allowing small- to medium-sized carriers access to niche products and other devices that are challenging to secure."
Image courtesy of flickr user Jon Fingas.