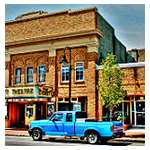 This week brings two more announcements involving small town gigabit networks. One comes from LS Networks, a company formed by a consortium of electric cooperatives, which will offer broadband at speeds between 100 Mbps and 1 Gbps in rural Maupin, Oregon. The other announcement comes from MaxxSouth Broadband, a company that operates fiber-to-the-home networks in three Mississippi markets and plans to launch gigabit service in Oxford, Mississippi – a college town with a population of 20,000.
Small Town Gigabit Networks
Smaller town gigabit networks are more common than one might expect, because many of the smaller carriers that serve those towns had previously deployed fiber-to-the-home networks, which in many cases can be easily upgraded to support gigabit service. Neither the LS Networks nor the MaxxSouth Broadband announcement today involved a network upgrade, however. Both companies are making their initial FTTH deployments in the announced communities.
LS Networks was founded in 2005 specifically to bring better broadband to rural Oregon. According to the company's website "our priority has been to provide service before profit, often investing resources into the community without immediate financial returns."
The company did get some help in financing the Maupin network, which came in the form of a $410,000 state grant through a partnership with the QualityLife Intergovernmental Agency. The entire project is expected to cost $1.2 million, with service launched to some residents beginning in the spring of 2017.
LS Networks already announced that it plans to charge $40 for 100 Mbps service and $70 for 1 Gbps service.
MaxxSouth Broadband
A MaxxSouth Broadband spokesperson told Telecompetitor that the company several years ago purchased the incumbent cable operator in Oxford. The company also provides broadband but not voice service. To support gigabit service, however, the company is deploying a FTTH network. MaxxSouth Broadband already offers FTTH in two other Mississippi communities – Starkville and Carthage.
The initial phase of the gigabit deployment in Oxford is expected to be completed in early 2017 and to reach 3,000 homes. Over the next few years, MaxxSouth plans to deploy FTTH service throughout Lafayette County, of which Oxford is the county seat.
MaxxSouth is not the only company with broadband ambitions in Mississippi. C Spire, traditionally a wireless carrier, also has been deploying FTTH networks in the state and has made Starkville one of its gigabit markets, as well as building a data center there. C Spire also offers Wi-Fi at the University of Mississippi football stadium in Oxford.
MaxxSouth Broadband is a subsidiary of media holding company Block Communications Inc.
Image courtesy of flickr user Fintrvlr.