Updated
BLM Acquisition Corp., a consortium of 32 regional telecom and broadband providers, announced today that it has acquired cloud hosting company Codero Hosting – a move that deal-maker Bill King said could enable the providers to compete with the likes of Amazon Web Services and Microsoft on a local basis. This strategy, he said, will bring new revenue streams to the providers, who have seen declines in their traditional telecom business.
King, a long-time rural telecom financial player, is a founding shareholder of BLM, which was created to make the Codero purchase. Other founding shareholders include Leo and Manny Staurulakis. Financial details of the transaction were not revealed and as of noon today BLM had not released the names of the 32 small provider investors. King said he will send details when BLM has received approval from the providers to release their names, at which time Telecompetitor will post an update to this story.
Codero Acquisition
Some individual Tier 2 and Tier 3 service providers have made data center acquisitions, including TDS Telecom and Windstream. And some small providers or small provider groups have established their own data center businesses.
But the Codero deal could enable small providers to get into the data center business on a bigger scale than before. According to King, the acquisition also could help the small providers move higher up on the data center value chain.
"We were seeing people getting into the data center business," said King of the small service providers he has worked with for years. But results were mixed – in part because some providers focused on co-location services, he said.
King argued that it's a smarter strategy to focus on delivering services from data centers rather than simply offering co-location. Codero has the right focus, he said, and "our plan is to give them the fuel they need to continue to develop that business."
He noted, for example, that Codero has a considerable number of European customers that need a cloud business in the U.S. and that one opportunity might be to develop data centers in Europe to "be in a better position to serve companies over there."
For the small service providers that have invested in Codero, "the initial objective is to develop hosted solutions that make sense in rural markets so our companies have the expertise and resources to be able to provide these services to their customers," King said.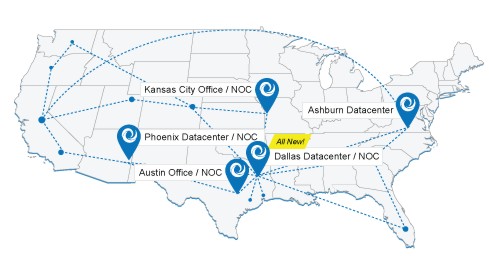 Ambitious Future Plans
Longer term, King envisions the creation of what he called a "data center in a box" that would re-purpose space in existing central offices operated by the small providers. Noting that Codero operates data centers in major markets such as Dallas and Phoenix, King said the idea would be to "virtualize" the small provider mini data centers with Codero's facilities.
With a limited number of servers located in their re-purposed COs, small providers "can address 90% of the business in their local markets in a relatively small footprint," King said. Additionally, he said, the providers "have the ability to connect back to Codero's cloud pods in the event they're doing e-commerce and have a lot of hits – they have the ability to do that stuff."
In the even longer term, another play is the Internet of Things, King said. As billions of Internet-connected devices are deployed, King estimates that a significant portion of them will be in the land mass served by rural telcos. And that could be a big opportunity for the rural providers.
"When you get into the types of computing we're talking about it will be tougher and tougher to move all that stuff even to Dallas," King noted.
He sees the IoT driving demand for storage and compute capability at the mini-data centers, which he referred to as "cliff data centers," implying that they are farther out than what some people call "edge data centers."
Update: BLM provided a partial list of small providers investing in Codero:
Alma Telecom, Inc.
Alpine Communications, LC
ATMC (Atlantic TMC and Affilitiates)
BEK Communications
BTEL (Brazoria Telephone)
Bulloch County Rural Telephone Cooperative, Inc.
ComSouth Corporation
DCN, LLC (Dakota Carrier Networks)
Dickey Rural Telephone Cooperative
Farmers Telecommunications Cooperative
FTC (Farmers Telephone Cooperative – South Carolina)
Golden West Telecommunications Cooperative
Green Hills Telephone Corporation
Hiawatha Communications Incorporated
Hill Country Telecommunications
HTC Inc. (Horry Telephone Cooperative)
MTC Holdings (Premier Communications)
Palmetto Rural Telephone Cooperative, Inc.
Pineland Telephone Cooperative, Inc. as Pineland Cellular, Inc.
SkyLine Membership Corporation
SWT Unregulated Properties, Inc. (Investor)
Taylor Telecommunications, Ltd
Twin Lakes Telephone Cooperative
USConnect Holdings, Inc.
Venture Communications Cooperative
West Carolina Telephone Cooperative
West Kentucky Rural Telephone Cooperative Corporation, Inc.
Wilkes Telephone Membership Corp.
Yankee Telecom, Inc. (Granite State Telephone)