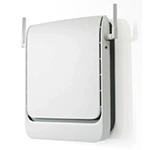 A new small cell revenue forecast from IHS Technology calls for revenues to total more than $2 billion by 2019. Small cell deployments increased at a double-digit rate year-over-year (YoY) in 2015, but the market remains tiny when compared to that for 2G/3G radio access networks (RAN), which racked up $22 billion in revenues worldwide last year, according to IHS.
Small cell unit shipments totaled 1.4 million globally in 2015, yielding revenues of $1.2 billion. That's 44% more than 2014's total, IHS highlights in its 1H 2016 Small Cell Equipment Tracker. IHS analysts attributed the strong growth to roll outs in rural and remote areas along with increased small cell activity on the part of large enterprise businesses.
Small Cell Revenue Forecast: Indoor Vs. Outdoor
Verizon announced it would carry out a small cell trial project using wireless 4G LTE-U in February. Verizon and other telecompetitors are looking to small cells and LTE broadband to improve service quality and coverage indoors and in high density areas, such as office buildings, shopping malls, hospitals and university campuses.
Within the market segment, IHS researchers expect indoor small cell shipments will surpass outdoor small cell shipments this year. Because outdoor units are more expensive than indoor units, however, the IHS small cell revenue forecast calls for outdoor small cell revenue to continue to exceed that for indoor units.
Other key takeaways include:
The indoor small cell market, which comprises the indoor urban and enterprise sub segments, is anticipated to move rapidly toward commoditization as volumes rise and service providers seek out plug-and-play form factors;
Outdoor small cells are more akin to the "base station" form factor, while indoor units are transitioning to a form factor that is similar to a wireless local area network (LAN) access point in terms of size and power requirements;
Topping the enterprise small cell market share leaderboard in 2015 were, in alphabetical order, Airvana, Alcatel-Lucent, Cisco, ip.access and SpiderCloud.