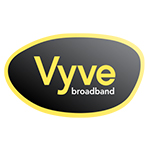 Vyve Broadband, a cable broadband consolidator focuses on rural communities, is offering free Wi-Fi hotspots for business customers who sign up for its 105 Mbps service. The Vyve free Wi-Fi hotspots provide customers with a secure connection that is supported by a Vyve-branded portal through which customers are authenticated, the company said.

According to Vyve, the 105 Mbps service is the fastest service available in many areas the company serves.
Vyve Free Wi-Fi Hotspots
The Vyve Wi-Fi offering is already benefiting some businesses.
For example, Fred's Tire and Battery in Shawnee, Oklahoma operates two locations in town and has seen first-hand what a day lost to car troubles or routine maintenance can do to a customer trying to stay connected. The local business now features free Wi-Fi, as well as video solutions from Vyve.
"We have regular customers that come in every month for oil changes and they really like that we have the free WiFi," said Darren Rutherford, who runs Fred's Tire and Battery. "People bring in their laptops and tablets, and they're less impatient for their cars." Rutherford added that some customers even look forward to bringing in their cars for maintenance, so they can get some work done.
Vyve just recently launched a 250 Mbps business tier across 100 rural markets in six states. They also offer gigabit capability in select markets. The rural focused cable MSO currently operates in Oklahoma, Texas, Arkansas, Kansas, Louisiana, Tennessee, Georgia, and Wyoming using primarily an HFC based network. Back in July, they announced that 80% of their footprint was capable of delivering 200 Mbps broadband.