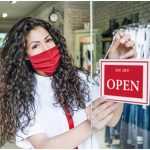 Residents want to support small local businesses as they reopen – but will do so with great care, according to a small business COVID-19 study from Cox Business.
Respondents say that they have reduced their pre-pandemic visits to small businesses from one to three times per week to once weekly—or not at all. More than 68% of respondents said they want to support small businesses in their community and 70% plan to do so as the pandemic recedes.
Restaurants are a foundation of location economies. About three-quarters of respondents – 76% — are ordering takeout and/or delivery and a strong segment (40%) are increasing the amount they tip. Overall, 30% are shopping online with local retailers.
Respondents to the small business COVID-19 study also were asked their perceptions of the level of guidance small business are getting. Forty percent feel retailers are receiving "efficient" guidance and resources to implement social distancing from state governments, while 41% feel that the federal government was falling short on this issue.
The country is moving towards reopening. Respondents were asked what steps small businesses can take to make them feel safe. The top step, at 79%, is to limit the number of customers in a store. That is followed closely by requiring all staff to wear personal protective equipment (76%). Significantly behind – but with almost half of respondents' support – are installation of protective plastic shields at checkouts and acceptance of contactless payments. Both were at 45%.
The small business COVID-19 study was conducted last month. It features responses of 1,244 consumers and has a margin of error of +/-3%.
"It's been an incredibly difficult few months for small businesses across the country," Cox Business Executive Vice President Steve Rowley said in a press release. "Knowing that a vast majority of people are looking for ways to show their support makes the outlook brighter."
Carriers are working to help small and local businesses survive the pandemic. Last week, AT&T introduced the Business Unlimited Web Only plan. It supports as many as six lines starting at $60 per month for a single line. In May, Charter offered a month of free service for new customers to Spectrum Business. T-Mobile offered new SMB customers or those who transition employees to the carrier 90 days of free service.