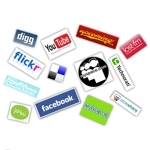 Small business and social media are increasingly becoming friends. Small businesses  are turning to blogs, Facebook and LinkedIn profiles, to grow and improve their businesses, this despite the economic downturn, according to a study conducted by the University of Maryland Smith School of Business's Center for Excellence in Service.
Social media adoption by small businesses has doubled 12% to 24% in the last year, according to the UM center's "Small Business Success Index."
Among the study's findings:
75% of the 500 small businesses surveyed by phone last December have a company page on a social networking site;
61% use social media to identify and attract new customers;
57% have built a network through a site such as LinkedIn;
45% expect social media to be profitable in the next 12 months.
While some are finding that social media apps and sites have lead to greater engagement with customers, higher brand awareness and more business at lower marketing/advertising cost, small business owners are also finding that getting social media up and running takes more time than had been expected. And though just 6% feel that social media has hurt their business's image, some 17% of respondents expressed concern about the unchecked potential for people to openly criticize their business.
"Tough market conditions mandate small businesses to think and act creatively to sustain themselves," Connie Steele, a Network Solutions' director, stated in the news release. "Social media can be the best friend for small business owners who constantly seek new ways to maximize productivity while keeping costs low. As validated by the SBSI, it is not a question of why small businesses use social media but rather when the adoption rate will accelerate this year."