Sling TV and Roku are planning an ¨invitation only¨ cloud DVR beta program. Sling TV customers can request an invitation to participate in the Sling TV, Roku program, which is slated to begin in December, via www.sling.com/dvr.
Invitations will be sent first to Sling TV subscribers that use Roku streaming media players and Roku TVs, according to a press release.
Participants will be able to store up to 100 hours of content via the new cloud DVR offering at no charge. In contrast with previous cloud DVR programs, Roku's Sling TV beta sets no 28-day cap on recordings, Sling TV CEO Roger Lynch highlighted.
Sling TV, Roku Trial Plans
More specifically, the Sling TV-Roku cloud DVR service will be available to beta customers who subscribe to the Sling Orange single stream and Sling Blue multi-stream OTT video services.
Features include the ability to record multiple programs simultaneously and pause, rewind or fast forward content. When uploading new content when capacity limits are reached the oldest content is automatically deleted to free up storage space.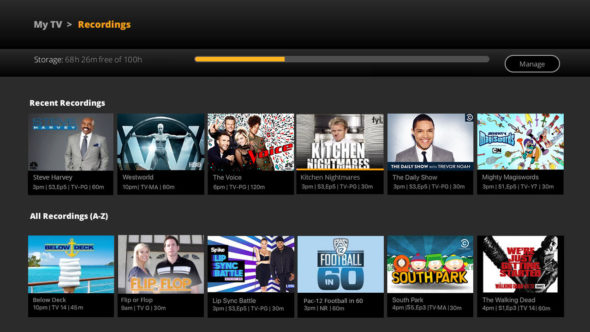 Looking ahead, Sling TV and Roku intend to refine the beta DVR cloud service based in part on beta program participant feedback. Tentative plans for future development include enabling users to raise storage capacity limits and protect recordings.
Roku launched five new streaming media players in late September, including new low and high-end products. Roku Express, the vendor's smallest offering retails at a suggested $39.00. With an MSRP of $49.99 Roku Express+ includes a composite jack and A/V cable.
Moving further up in streaming quality, Roku Premiere (suggested MSRP $89.99) and Premiere+ (suggested MSRP $109.99) deliver 4K Ultra HD or HD-quality video streams at up to 60 frames per second.
Just a week ago, Sling TV announced its service would be integrated with Comcast X1, making DISH's OTT service available to millions of subscribers via Comcast set-top boxes (STBs). "The addition of Sling TV's multicultural programming will be an excellent complement to the existing international offerings on X1 and will be attractive to our customers," said Javier Garcia, Senior Vice President and General Manager, Multicultural Services for Comcast Cable in a press release.
"Our customers are becoming increasingly diverse and this is a fantastic opportunity to quickly deliver even more customized and multicultural programming to them, on an X1 platform that's smart, fast and easy-to-use."