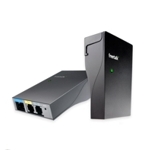 Skype's roots are in peer-to-peer VoIP calling. They have since branched out into a variety of other products including video chat and increasingly, business unified communications. It's newest product, FREETALK Connect Me, takes it back to its VoIP roots.
Most Skype communications have historically come through the PC and increasingly through mobile connected devices. Tech savvy consumers could find ways around this and mimic traditional calling with Skype with third party products. But with FREETALK Connect Me, Skype is taking their VoIP calling to the masses. FREETALK Connect Me is a home phone line adapter, which bridges traditional telephones with Skype VoIP calling. Think of it as Skype's version of the magicJack adapter, although Skype's version does not need a computer to be on (you do need computer access for initial set-up). Not to be outdone, magicJack is also going after Skype's core service, with the launch of their magicTalk service. It will be interesting to watch these two battle it out on each other's core turf.
In Skype's own words (via their website), "The FREETALK Connect-Me phone adapter is a small box that sits between your home phone and your broadband router and lets you enjoy convenient, low-cost Skype calls from your home phone!" Neil Stevens, Skype's vice president and general manager for product and marketing chimes in with, "Now, using Skype at home is as simple as picking up a handset and dialing."
Skype is selling the adapter in a few ways:
$39.99, which includes 60 minutes of calling to any domestic landline or mobile phone.
$59.99 which includes unlimited U.S. and Canada calling
$59.99 which includes unlimited world calling for 3 months
Skype does say that FREETALK Connect Me should not be considered as a landline replacement. I find these disclaimers interesting, in that, they are buried in the FAQ section of their website, but the marketing message is quite clear – use FREETALK Connect Me as your home phone. The other marketing strategy of note here is the use of the word 'free.' It's a strategy that's been used quite effectively by a variety of VoIP and wireless providers. It's quite ingenious how these marketers have convinced consumers that their service is 'free,' even though you have to pay something to use them.
FREETALK Connect Me is priced higher than magicJack's $19.95/year. It will be interesting to see if that price difference means FREETALK Connect Me will interconnect with everyone, including rural carriers, a practice that magicJack appears to be having some issues with.