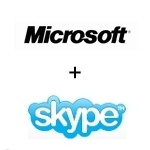 It's official. Microsoft and Skype have concluded "negotiations of the definitive agreement" according to which Skype will now be a business division of Microsoft. The transaction is valued at $8.5 billion. Announced in May and subsequently approved by the boards of directors of both companies, the negotiations were led by the Silver Lake investor group.
"Microsoft and Skype will remain focused on their shared goal of connecting all people across all devices and accelerating both companies' efforts to transform real-time communications for consumers and enterprise customers," is a statement included in Microsoft's press release.
As a product and service, Skype, over the longer term "will be integrated across an array of Microsoft products to broaden Skype's reach and accelerate its growth as a fundamental way people communicate online."
Will that include Microsoft offering Skype as a video enabled VoIP solution to its enterprise-class business customers, either as a package or as a stand-alone service? Indeed, it will be interesting to watch how Microsoft integrates the Skype product and brand into its portfolio of products and services. Their are numerous consumer and business application possibilities to ponder.
Skype CEO Tony Bates takes on the position of president of the Skype Division, reporting directly to Microsoft CEO Steve Ballmer.
"By bringing together the best of Microsoft and the best of Skype, we are committed to empowering consumers and businesses around the globe to connect in new ways," Bates said. "Together, we will be able to accelerate Skype's goal to reach 1 billion users daily."
Skype was founded in 2003. Private equity house Silver Lake, along with other investors, acquired the pioneering, peer-to-peer video-VoIP technology developer and service provider from eBay in November 2009.