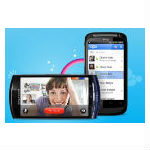 Skype's released Skype for Android 2.0, an upgraded version of its Skype for Android app, following through on the company's stated intention of bringing Skype to as many platforms as it can. "We are committed to bring Skype Video Calling to as many platforms as possible and are delighted to deliver on this with our new updated Skype for Android app," said Neil Stevens, Skype's vice president and general manager for product and marketing.
"With approximately 30 million concurrent users logging into Skype at any given time4 and making up to half a million simultaneous video calls5 , Skype for Android with video makes it even easier for users to share moments with their contacts wherever they are."
In addition to free video calls between Skype members, users of the Android app will be able to make calls to landlines and mobile phones around the world, as well as send SMSs at Skype rates. A new main menu enables users to navigate through contracts, access their Skype profiles or check the balance of their account. There's also a new personal message box that allow contacts to view personal updates.
The app is free and can be downloaded from the Android Market or Skype. Available in the first phase of its rollout, the new app is available on the HTC Desire S, Sony Ericsson Xperia neo, Sony Ericsson Xperia pro, and the Google Nexus S.