In a sign that telehealth advances made during the COVID-19 pandemic will be normalized going forward, Verizon Business has announced BlueJeans Telehealth. It describes the service as a data-driven way to extend care into the home.
Verizon Business says that the service, which will be fully available next month, was designed to simplify the virtual join and visit experience and to offer greater access to care, offer patients and providers more flexibility, improve safety and extend the reach of available services.
The company says that the experience working with healthcare providers during the pandemic help identify the keys to virtual care.
Patients meet with providers over their desktop, mobile browser or the BlueJeans app, which offers Dolby Voice Audio. They will have access to pre-visit virtual "waiting rooms" with customized patient education. Materials will be available in more than 200 languages including sign language.
Licensing will be based on a per-visit model, which Verizon Business says will simplify administration and reimbursement. The service also will be available in a "named host" format.
BlueJeans Telehealth features access controls, encryption, privacy checks, locked meetings, fraud detection and moderator controls. It is HIPAA-ready and Verizon will sign HIPAA business associate agreements with customers. Providers have an embedded directory with their Electronic Health Record (EHR) workflows.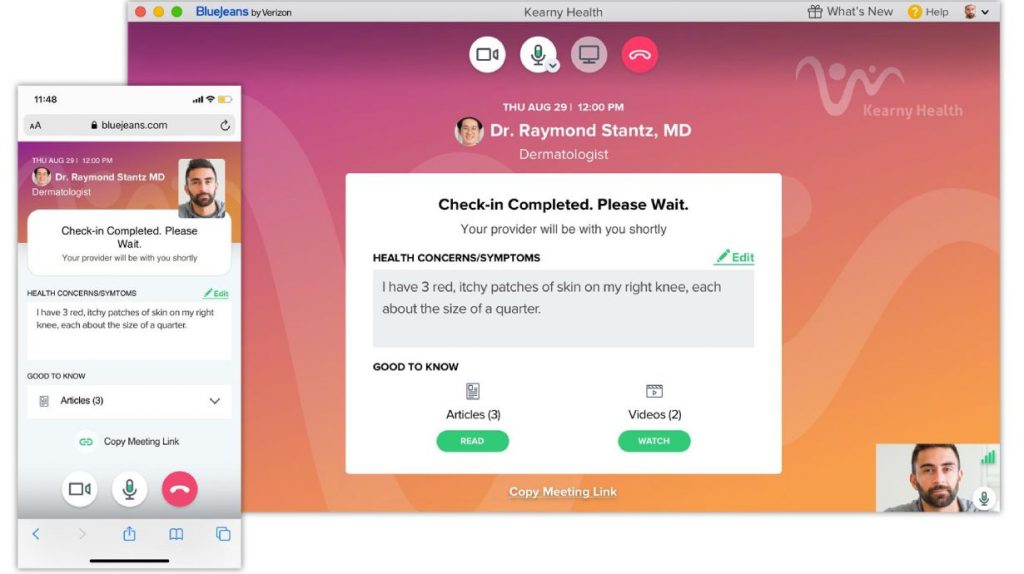 "While the use of telemedicine has been steadily growing for some time now, the pandemic has accelerated telehealth adoption and changed the conversation around what patient care will look like moving forward," Verizon Business CEO Tami Erwin said in a press release. "We worked closely with an advisory board of health system clinicians and healthcare decision-makers to build BlueJeans Telehealth specifically to address the most pressing needs for a virtual-first telehealth offering–from ease of experience to enhanced security."
In December, a study from HIMSS Market and Spectrum Enterprise found that 65% of healthcare organizations say that they have been very successful in meeting patient demands using telehealth technology and almost 94% said they will continue to invest in such platforms. Survey respondents had a number of concerns which BlueJeans Telehealth seems to take aim at addressing.
Verizon closed the acquisition of teleconferencing firm BlueJeans Network on May 18, 2020.