Should smaller MSOs enter the wireless market? Maybe, says CoBank
Fundamental changes in the wired and wireless landscape should lead small cable operators to look at the wireless market, according to a study by CoBank.
The problem for the cable industry is that the availability of spectrum for evolving fixed wireless access is making their core home broadband market vulnerable. CoBank sees big cable operators' launch of mobile virtual network operator (MVNO) services as a response to the fixed wireless threat.
MSOs are having considerable success with their MVNOs. MSOs represented about 30% of total wireless industry phone net additions during the past year. The MVNO strategy also has likely helped MSOs reach major milestones in growth, revenue or reduced churn.
MVNOs probably are not a good choice for small rural operators because these operators generally don't have much competition, the study says. But cable companies in Tier 2 and 3 markets may want to consider offering wireless, CoBank says. (Apparently CoBank doesn't consider rural markets to be Tier 2 or 3.)
Whether a tier 2 and 3 MSO should go this route is dependent upon competitive environment, scaling ability, technical capabilities and other factors, according to the report. MSOs should consider their ability to scale in a financially prudent way and whether they have creative business models capable of managing costs and generating new revenue sources.
The study, from CoBank Knowledge Exchange, offered five major takeaways:
Verizon, T-Mobile and other national wireless carriers are going after the home broadband market in an effort to take market share from the incumbent cable providers.
Wireless technical advances and providers' considerable spectrum holdings have enabled national wireless operators to offer broadband via fixed wireless service.
CoBank sees MVNO launches from Charter, Comcast and Altice as an "impressive" response to competitive fixed wireless offerings. The cable companies are bundling their broadband service with smartphone plans and phones.
Smaller cable might act now due to their vulnerability to fixed wireless competition.
However, launching an MVNO is not easy. Cable operators must consider how to lower wholesale costs, how to address scale and other factors.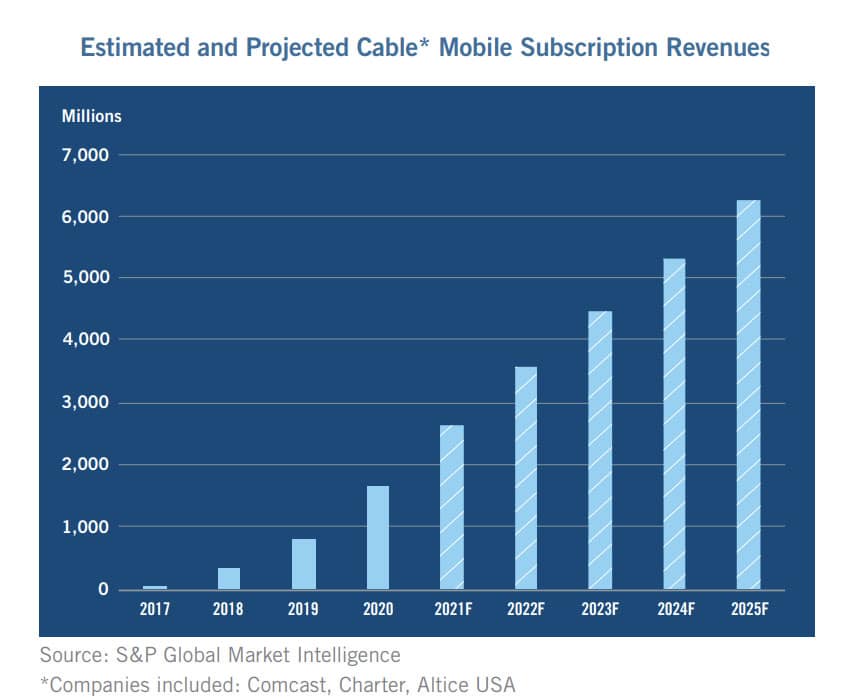 "Smaller cable operators have been watching from the sidelines, but now could be time for some of them to go wireless given their vulnerability to fixed wireless competition," Jeff Johnston, CoBank's lead communications economist, said in a press release about the MSOs wireless report."However, launching a wireless service is no small task and smaller cable operators should consider several factors, including the competitive landscape and how to lower wholesale costs and address scale."
Verizon seems to be especially keen to take on the cable industry–in the business market, at least. Last month, it added 18 markets to its fixed wireless 5G Business Internet service. The press release literally called out the MSOs, "5G Business Internet is an alternative to cable Internet," Verizon said.