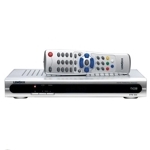 A voluntary energy conservation agreement between pay-TV industry participants, consumer electronics manufacturers and energy efficiency advocates is bearing fruit. Set-top box (STB) energy-efficiency enhancements have resulted in American consumers saving some $168 million in energy bills, according to the "Voluntary Agreement for Ongoing Improvement the Energy Efficiency of Set-Top Boxes 2013 Annual Report."
STB energy efficiency enhancements aren't only saving consumers money, they're helping improve environmental health and safety. STB's improved energy efficiency saves nearly 842,000 metric tons of carbon dioxide emissions annually. That's equivalent to about 50 percent of emissions from a large, 500-megawatt (MW) power plant, report producers NCTA (National Cable and Telecommunications Association) and Consumer Electronics Association (CEA) highlight in a press release.
Set-Top Box Energy Efficiency Agreement
Pay-TV industry participants in 2012 established a voluntary agreement that's expected to result in annual electricity savings of $1 billion or more, the result of increasing STB energy efficiency by as much as 45 percent. Eleven cable, satellite and telco video service providers signed on, as did STB equipment manufacturers serving 91.9 million U.S. video subscribers. All told, the group represents 91.3 percent of the total market for STBs as of 2013. Leading energy-efficiency advocates joined in an expanded version of the voluntary agreement last year.
Fully 85 percent of the STBs bought by pay-TV providers in 2013 complied with the U.S. Environmental Protection Agency's (EPA) Energy Star 3.0 efficiency standards. The latest STBs consume about 14 percent less energy than previous models provided by pay-TV providers.
Other highlights of the STB energy efficiency annual report include:
The Voluntary Agreement led to a 4.4 percent reduction in national energy consumption by set-top boxes even as deployed stock increased in 2013;
These energy savings are even larger when compared to national energy use projections without the Voluntary Agreement. Against those projections, the improved energy efficiency of the set-top boxes procured in 2013 saved American consumers almost $350 million in energy bills and saved nearly 1,750,000 metric tons of carbon dioxide (CO2), equivalent to the output of one large (500MW) power plant;
Set-top box purchases indicate early adoption of 2017 goals – 90 percent of purchased set-top boxes must meet a more stringent set of energy efficiency levels called Tier 2. Approximately 47 percent of set-top boxes purchased in 2013 meet the more efficient Tier 2 levels;
The industry now offers new whole home DVRs, which are able to deliver live and recorded content to multiple TVs in a home, providing additional energy savings as consumers no longer need a DVR on each TV;
Cable operators have deployed software updates enabling "light sleep" for set-top boxes already in homes and new set-top boxes. Telco providers deployed "light sleep" capabilities, and satellite providers have included an "automatic power down" feature in more than 90 percent of set-top boxes purchased and deployed.
"The Voluntary agreement to reduce national energy use of set-top boxes is off to a great start. With these improvements the national energy used to power these devices is now going down," commented Noah Horowitz, senior scientist at the Natural Resources Defense Council (NRDC). "The great news is that the more efficient boxes save consumers money on their electric bill, reduce pollution, and work even better than the old ones used to."
Added NCTA president and CEO Michael Powell, "These collective efforts of the cable, satellite, and telephone industries demonstrate a commitment to delivering innovative video services while at the same time saving energy in our customers' homes. A big part of innovation is making sure we are good stewards of the environment, so these providers and device manufacturers will continue to look for new ways to conserve energy in delivering services."