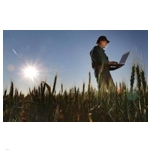 A bi-partisan group of 26 senators is asking the FCC to establish new parameters for a USF mobility fund that would target broadband availability in croplands "or some other geographic measurement." The goal would be to better support precision agriculture technology aimed at enhancing productivity and environmental sustainability.
"These technologies are transforming U.S. agriculture as American farmers and ranchers seek to feed, fuel and clothe an ever-increasing global population using limited land, water and other resources," wrote the senators in a letter to FCC Chairman Tom Wheeler.
The cropland or other geographic measurement would be in addition to another metric that has been used in targeting Universal Service Fund support for mobile services — road miles.
The letter,  spearheaded by Senators Roger Wicker (R-Miss.) and Joe Manchin (D-W.Va.), notes that cropland coverage can be assessed using U.S. Department of Agriculture data for crop operations, the U.S. Geological Survey's Land Use classification or other databases.
USF Mobility Fund
Traditionally wireless carriers received USF funding under the same parameters that applied to landline carriers, but that approach is being phased out in response to protests that it directed money toward carriers that did not need the funding in order to deploy wireless service in an area.
In 2012, the FCC conducted a one-time competitive bidding process that awarded $300 million to wireless carriers to bring 3G or 4G services along U.S. roadways where coverage was lacking. But an ongoing mobility program has not yet been established.  Indeed, less than a year ago, there was talk of scrapping the idea of a separate Universal Service or Connect America fund for mobile services.
More recently, however, Wheeler pledged to establish parameters for a broadband USF mobility fund as part of broader reforms aimed at transforming the traditionally voice-focused Universal Service program into a broadband-focused program.
According to the letter to Wheeler, senators advocating that the FCC consider the cropland measurement are from "states with significant agricultural activity." A complete list of senators signing the letter can be found here.