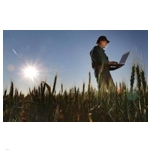 John Strode, vice president of external affairs for rural telco Ritter Communications, today offered the easiest-to-understand definition of quintile regression analysis that I've heard yet – and I've heard a lot of people try to explain the controversial statistical methodology, which the FCC has been using to impose caps on Universal Service support to rural telcos. Strode's comments came at a hearing conducted by the U.S. Senate Committee on Commerce, Science, and Transportation on "The State of Rural Communications."
Strode likened quintile regression analysis to a state trooper who pulls over multiple cars and gives a ticket to the one traveling the fastest. The trooper also tells everyone pulled over that they're all going to be clocked again further down the road and that he will give a ticket to whoever is fastest the next time. And this process will repeat itself at multiple checkpoints.
After the first ticket, "everyone slows down," Strode commented. But no one knows how their speed compares to everyone else's. All they know is that "whoever is fastest gets a ticket," Strode explained.
The FCC's quintile regression analysis measures service provider spending, not vehicle speed, but the principle is the same. Because of the uncertainty caused by quintile regression analysis, carriers have slowed network investment, said Strode, who pointed to the threat of other potential caps as another key source of uncertainty.
The Senate committee may have convened today's hearing in response to recent requests from small rural wireless and wireline service providers who have asked legislators to go to bat for them with regulators over a variety of issues. The committee drew together quite a representative group of rural telecom stakeholders which, in addition to Strode, included CenturyLink Executive Vice President Steven Davis, BOYCOM Cablevision President and CEO Patricia Jo Boyers, and U.S. Cellular Chairman Leroy T. Carlson, Jr.
While USF reforms appeared to be top of mind with Strode, other participants had their own agendas.
Wireless Interoperability, CAF Phase 1
Carlson urged legislators to help ensure that the FCC does not repeat the mistakes of the 700 MHz band as it makes plans for the 600 MHz auction of TV broadcast spectrum targeted for late 2014 or 2015.
"The FCC didn't require interoperability across the lower 700 MHz band," said Carlson. As a result, he said, small carriers "can't get access to some of the most popular handsets in America."
In planning the 600 MHz auction, the FCC should impose interoperability requirements, Carlson said. In addition he said he is hopeful that the FCC will address lower 700 MHz interoperability "as soon as new leadership is in place."
Davis's pet topic was the fate of unallocated funding in Phase 1 of the Connect America Fund program for price cap carriers.
"With spring's arrival, the time to build new networks is now," Davis told the committee, adding "it appears the FCC is listening and ready to move forward."
Did she really just say that?
Boyer's agenda was that of small rural cable companies that have not traditionally been eligible for USF funding and who want to ensure that they are not forced to compete with subsidized competitors.
Some observers appeared dumbfounded when feisty Boyer said her company had succeeded with "brains, balls and borrowed money, not necessarily in that order."
Subsequently Boyer said BOYCOM was a "mom and pop" company, that she was mom and her husband, seated a few rows behind her was "pop." One of the committee members said he assumed it was Mr. Boyer who was responsible for one of the three items on her success list.