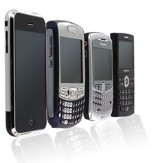 With the backdrop of smartphone exclusivity represented by the Palm Pre and Apple iPhone 3GS, several U.S. Senators notified the FCC, by way of a letter to acting Chairman Michael Copps, of their displeasure with the practice. Calling it potentially anti-competitive and hurtful to consumers, Senators Kerry, Wicker, Dorgan, and Klobuchar expressed their concern "… regarding the use of exclusivity arrangements between commercial wireless carriers and handset manufacturers with respect to wireless handsets that are made available to consumers."
The Senators, all members of the Senate Commerce committee, plan to hold hearings this week to address the issue. Breaking handset exclusivity is a cause championed by smaller rural carriers who don't have the scale to enter into these exclusivity agreements. The Rural Cellular Association (RCA) petitioned for a rulemaking on the issue back in May 2008.
Handset exclusivity absolutely impacts the competitive landscape. For large nationwide carriers, having an exclusive smartphone deal is almost a prerequisite to remain competitive. Sprint was the last national carrier to join the exclusive smartphone fray, with the recent launch of the Palm Pre. The only way these exclusive deals will change is through a mandate from the government. There's simply too much money at stake for both the carriers and the smartphone manufacturers to change it otherwise.