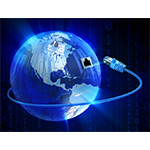 Policymakers continued their assault on broadband map problems yesterday with the introduction of Senate Bill 1822, to be known as the "Broadband Deployment Accuracy and Technological Availability" or Broadband DATA Act. The bill was sponsored by Senators Roger Wicker (R-MS), Gary Peters (D-MI), John Thune (R-SD) and Amy Klobuchar (D-MN).
Also yesterday, Wicker told FCC Chairman Ajit Pai at a Senate hearing that the FCC should not make any more broadband funding decisions until broadband map inaccuracies are resolved. Pai told hearing attendees that he plans to circulate a report and order to address broadband map problems to the other FCC commissioners for a vote in August.
Broadband DATA Act
Neither the text of the Broadband DATA Act nor a bill summary has been released yet, but according to Wicker's website, the bill "would require the FCC to issue rules relating to the collection of data with respect to the availability of broadband services and for other purposes."
According to one news report, the bill would require the FCC to collect granular service availability from broadband providers; to use strong parameters for mobile service availability data; to consider whether to collect verified coverage data from state, local and tribal governments and other entities and to create a process for stakeholders to challenge FCC maps with their own data.
Broadband map problems have been top of mind with a wide range of stakeholders in recent months. As more and more policymakers have recognized the importance of making broadband available to all Americans, it has also become apparent that the FCC is unclear on where broadband is and is not available.
Broadband providers are required to report where they offer broadband on a census block basis, and an entire census block is considered to have service even if only a single household in the census block can receive service. In some cases, a census block may be considered "served" if a single provider has said it could easily offer service there, even it has not yet deployed service.
Considering that the U.S. has 3,200 census blocks that are larger than Washington D.C., this methodology leaves a lot to be desired.
The Senate is just one of a range of entities that are working on a solution to broadband map problems. The National Telecommunications and Information Administration (NTIA) has enlisted the help of several states to address the problem. Carrier association USTelecom has undertaken a pilot test and estimates that broadband map problems could be solved for $10-$12 million. (This year's federal budget allocates $7.5 million for broadband mapping.)
The Broadband DATA Act is not the only bill introduced in the Senate that aims to address broadband map problems. Last month, a different bi-partisan group introduced the Broadband Data Improvement Act, which has similar goals and requirements as the bill introduced yesterday.