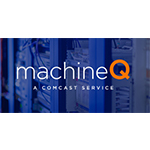 Semtech Corp., a provider of semiconductors and other wireless technologies, says that its IoT networking technology has connected Comcast MachineQ IoT network service in 10 U.S. cities. MachineQ is currently available in Philadelphia, Chicago, San Francisco, Atlanta, Baltimore, Boston, Denver, Detroit, Indianapolis, Miami, Minneapolis/St. Paul, Oakland, Pittsburgh, Seattle, and Washington D.C. Semtech did not identify which of these markets features their technology.
"As we continue to deploy LoRaWAN-based access to cities across the U.S., we are enabling businesses across a wide range of industries to bring IoT solutions to market faster, which is good for the ecosystem as a whole," Alex Khorram, the General Manager of Comcast's MachineQ said in a press release. "We are seeing real momentum as solution providers and end users alike are realizing the benefits of having a low-power, wide-area connectivity option as they look to take advantage of IoT within their organizations."
The way in which IoT devices are networked is critical. They must use very little power due to their great numbers and the difficulties in reaching many of them. LoRaWAN is emerging as one of the primary protocols for performing this task.
In March, Comcast said that five companies had agreed to use MachineQ. The networking platform will be used for asset tracking (Adveez), geo-location (CareBand), water infrastructure management (Neptune), facilities management (Pansofik) and pest control (Victor).
The IoT opportunity for service providers is seeing significant momentum, and the cable industry aims to capitalize on it. Cox recently expanded their IoT practice, Cox2M. Telecom carriers see IoT as a key application for 5G. In February, AT&T and Ericsson announced an IoT certification program for devices featuring testing, verification and "white glove" assistance in regulatory matters.
Broader industry growth is cited in the Semtech press release. It references ABI Research, which predicts that metering, parking and street lighting will help the category grow from about $25 billion last year to $62 billion in 2026.