A residential security monitoring revenue forecast from Parks Associates exceeds $15 billion for the U.S. for 2020. Smart home services will account for $1.2 billion of the total as innovative companies drive new revenue by extending professional monitoring services beyond residential security to new use cases in the connected home, researchers said.
A growth in monitoring has been expected by those offering the service. Home monitoring was one of the first services Amazon offered after acquiring Ring, as Telecompetitor reported.
Even though professional monitoring is expected to see strong demand, the research firm cautioned that the COVID-19 pandemic and resulting economic fallout are expected to create a more challenging landscape in 2020, particularly as consumers are seeking to reduce household spending.
Separate Parks Associates surveys show that consumers see value in the safety and security of monitoring services. Researchers recommend marketing and pricing strategies that can build off of this recognized value.
Security Monitoring Revenue Forecast
"The number of connected devices continues to expand year-over-year, and 2019 concluded on a particularly strong note for the security industry," Brad Russell, Parks Associates research director, connected home, said in a prepared statement. "Security system adoption reached one-third of all US broadband households at the end of the year. Consumers now have an average of 11.4 connected devices in their homes, which opens multiple opportunities to extend monitoring services as well as different varieties of both professional monitoring and MIY (monitor-it-yourself)."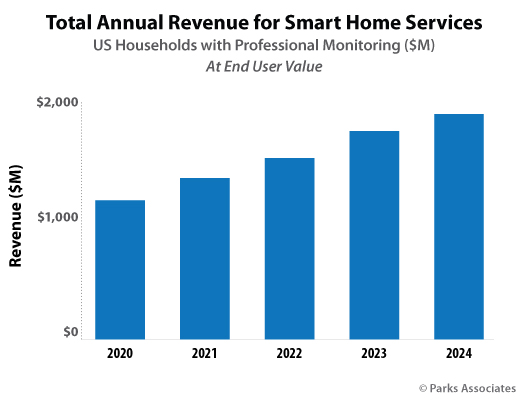 Russell added: "Central monitoring is a high-margin business, and many stations have excess monitoring capacity, driving the industry to expand its value proposition beyond the standard security offering. As more aspects of daily life get connected, and as people spend more time in the home, new opportunities emerge that cross multiple industries, including energy usage monitoring, risk mitigation from flood and fire, monitoring the health and safety of aging relatives, tracking of valuables, and appliance maintenance monitoring."