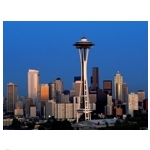 A Seattle broadband network based on a public-private approach could be shaping up, now that Seattle Mayor Ed Murray has joined a growing camp of city leaders that believes public-private partnerships are a good way to approach network buildouts.
In a study released last summer, a city commission determined the cost of building out a municipal broadband network on its own would range between $480 million and $665 million, a price tag the mayor said was too high for the city to pursue on its own. He reiterated this position at a regional broadband conference co-hosted by non-profit Next Century Cities and the National Telecommunications and Information Administration (NTIA) in Seattle March 21, the Seattle Times reports.
The mayor said going it alone would result in the largest tax increase in the city's history, an assertion the mayor's office later corrected by saying it would result in one of the largest increases in city taxes. They noted that the $930 million Move Seattle transportation levy voters approved last fall may be bigger depending on what the costs of building a municipal broadband network would actually be.
The Seattle broadband network news comes just a week or so after a San Francisco Municipal Advisory Panel last week released a report recommending city government pursue a public-private partnership approach to building an affordable, city-wide municipal broadband network. Projecting construction costs at $867.3 million and annual maintenance expenses at $145 million, they recommended setting a baseline utility access fee of $26 per month.
Seattle Broadband Network Plans
Proponents in Seattle have been pushing for Seattle to roll out a city-run broadband network for some time, contending that it would be cheaper than currently available private investor-owned broadband provider services and help bridge the ¨Digital Divide,¨ Seattle Times' reporter Rachel Lerman noted. CenturyLink and Comcast currently offer broadband network connectivity in the city.
Some 93,000 homes in Seattle, about 15% of the total, don't have Internet access. Many of them are low-income households. Devin Glaser, a policy analyst at Upgrade Seattle, pointed out that it would cost just half as much to roll out affordable, high-speed broadband and bridge the Digital Divide than the new transportation levy.
Mayor Murray said the Seattle government would soon be announcing significant new programs as part of the Digital Equity Initiative, a city-led program launched in the wake of the release of the city commission's municipal broadband feasibility study last summer. He added that the city has enlisted Google as a partner in a program that lends Wi-Fi hotspots to residents through the Seattle Public Library.
The city government is also trying to remove regulatory barriers that constrain more competition in the broadband services market.
Mayor Murray hasn't completely ruled out the city building and operating its own broadband network, according to the report. The mayor said the city would need help from the federal government to do so, however.
Lerman noted that the federal government financed some 230 broadband projects around the country via the 2009 American Recovery and Reinvestment Act. While all those funds have been tapped, municipalities can still apply for smaller federal grants through other federal agencies.
Image courtesy of flickr user CheWei Chang.