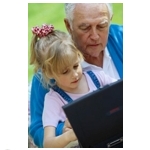 Email and search continue their near decade-long reign as the most popular online activities, even with the advent of widespread broadband access, mobile services and social media. Perhaps what's most striking about the staying power of search and email is how habitual they have become, according to new research from the Pew Internet Center's Internet & American Life Project.
Ninety-two percent of online adults in the U.S. use search engines to find information on the Internet. Fifty percent do so on an average day, making search the most popular online activity in the U.S. The figures are similar for email: 92% of online adults use email, 61% on a daily basis on average, according to the results of a May 2011 Pew Center survey.
Search and email have consistently ranked as the most popular online activities since the Pew Center project team began measuring Americans' internet use a decade ago. Fifty-two percent of of all Americans used search engines back in 2002. That's now at 72%. The 55% of Americans that said they used email in 2002 has grown to 70%. And the U.S. population has grown.
"Perhaps the most significant change over time is that both activities have become more habitual," according to the Pew Center report. Roughly 6 in 10 online adults use search and/or email on an average day. That compares with 49% who said they used email every day and the 29% who said they used search engines daily in 2002.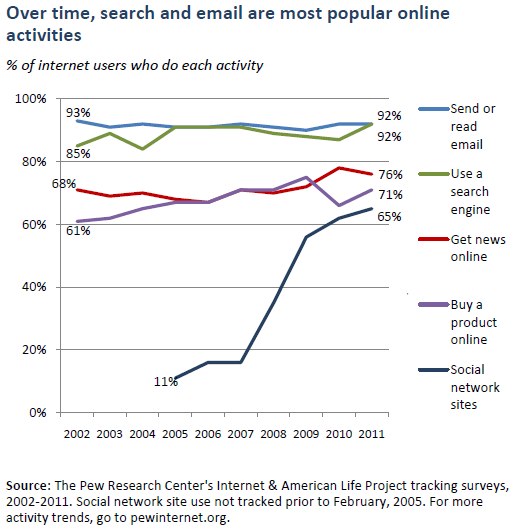 Search Engine Usage
Also indicative of how ingrained search and email have become in American society, is that search remains the most popular among the youngest adult Internet users, those age 18-29, 96% of whom said they use search engines for information discovery. Search is also extremely popular among the oldest age group, those over 65, 87% of whom use search engines.
Young, college-educated and higher income adults are also the most likely to use search engines daily, according to the survey results. The same was true in 2002, but other search engine demographic usage characteristics have changed.
Men were more likely to have said they used a search engine yesterday in 2002, and white adults were more likely than African-Americans and Hispanic-Americans. Those significant differences have disappeared, according to Pew Center project researchers.
Email Usage
The same consistencies and differences are broadly true of email then and now. In contrast to search engine use, daily email use is more pronounced across income and racial/ethnic lines. "White online adults are significantly more likely than both African-American and Hispanic online adults to be email users on a typical day (63% v. 48% v. 53%, respectively)," according to the Pew Center survey.
There are other difference in email use today as compared to 2002. College graduates and adults with household incomes greater than $75,000 were the most likely to use email in 2002, as were men as compared to women and white online adults as compared to African-American online adults. These differences are also no longer statistically significant, according to the 2011 survey.