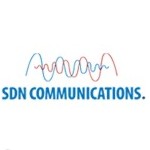 It's been a long time coming, but the broadband stimulus program's first project is actually underway. SDN Communications, a Sioux Falls, SD based regional fiber network, broke ground yesterday on their $25 million middle mile project which will build a 359 route-mile fiber network across the state of South Dakota. The project will take three years to complete.
According to StimulatingBroadband.com, the SDN project is the first broadband stimulus project to actually break ground and begin construction. The groundbreaking occurred at a ceremony at the Rapid City hospital in Rapid City, South Dakota and was attended by Governor Mike Rounds.
SDN was one of the first awardees from the broadband stimulus program. Their winning project was announced way back in December 2009 in the first announcement of broadband stimulus winners. The project was funded by NTIA's BTOP to build a middle mile network to connect anchor institutions throughout the state. The grant contributed over $20 million and SDN invested about $5 million.
Yesterday's groundbreaking demonstrates the long winding road of the stimulus program which was signed into law in February 2009. Now 18 months later, the first project is underway. According to the rules as they are currently written, all projects must be completed by September 2013.