The revenue growth outlook for SD-WAN services this year overall is good, though not as great as it was in 2019 and not as good as it will be for the next several years, according to an SD-WAN revenue forecast from Vertical Systems Group.
The growth rate last year was triple digits. The COVID-19 pandemic has reduced the overall growth projection to 17% this year, however. The VSG projection – which is built upon input from government directives, macro-economic data, enterprise demand information and service provider feedback – says that measurable economic recovery during the fourth quarter of the year will lead to SD-WAN gains through 2024.
VSG lays out a detailed roadmap for this year. January and February continued the great revenue growth of 2019. The worst two months followed amid stay-at-home orders and business shutdowns. The four middle months of the year are transitional: There is a gradual reopening of businesses on a state-by-state basis, but bankruptcies in hard hit industries such as retail and travel. September and October are characterized by adjustments to new operational realities as an economic rebound takes root. The last two months of the year see SD-WAN sales increase and site installations accelerate as the economic recovery gains momentum, according to the SD-WAN revenue forecast.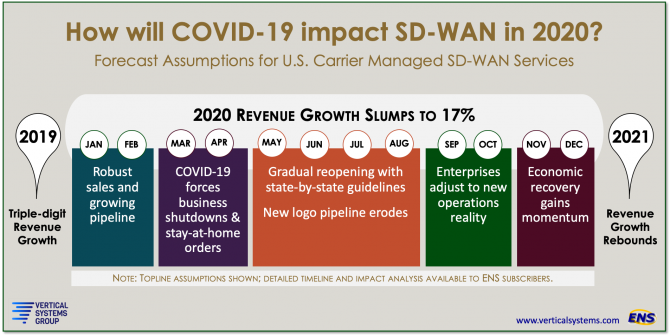 Beyond the SD-WAN Revenue Forecast
In April, VSG said that its U.S. SD-WAN Leaderboard had remained stable through the end of 2019. AT&T, Hughes, Verizon, CenturyLink, Windstream, Aryaka and Comcast had 2% or more market share, counting installed and billable carrier-managed customers sites.
The early adoption of the technology has been concentrated among bigger carriers and enterprises that have the manpower and budgets to invest and weather the ups and downs of a promising but immature technology. Now that the technology and vendor ecosystems are more established and stable, growth could be partially driven by SMBs. Last month, Windstream introduced Kinetic Business SD-WAN, which aims to bring the benefits of the technology to this sector. The offering is built on VeloCloud from VMware technology.
The maturation of SD-WAN in the U.S. is illustrated by the awarding of MEF 3.0 certification to Comcast and Charter/Spectrum. The certification, which is also known as MEF 70, uses the MEF's draft SD-WAN certification test requirements.