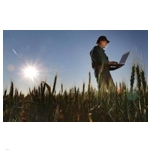 Small businesses in rural areas pay more for broadband connectivity on a per-bit basis than their counterparts in metropolitan areas, according to a new study from the Small Business Administration released this week.
The study, titled The Impact of Broadband Speed and Price on Small Business, found that metro area small businesses pay an average of $115 monthly for Internet service, which is higher than the average $93 that rural small businesses pay for service. But the metro area small businesses get disproportionately more bandwidth for the extra $22.
"Comparing the availability and price of services offered in select metro and rural regions indicates that rural customers pay significantly higher prices than metro customers for the same bandwidth, and that higher-bandwidth, higher-priced services are more readily available in the metro regions than in the rural regions," the report states.
Almost half (48%) of rural respondents and more than one-third (37%) of metro respondents said they were not satisfied with their Internet speed. Nearly one-fourth of respondents said they need more than 10 Mb/s for business purposes, with nearly one half saying they desired that level of bandwidth. A bit less than 20% of respondents said they needed speeds of 50 Mb/s or higher, with an additional 10% saying they desired service at that level or higher.
In an announcement of the results, Winslow Sargeant , Chief Counsel for Advocacy for the SBA argued for increased competition as a means of expanding the availability and affordability of broadband in rural areas. "All small businesses must have access to fast and affordable broadband if they're going to succeed in the global economy," he said. "Today's study shows that a lack of competition in broadband providers is having a negative impact on rural small businesses."
The report authors made several policy recommendations based on their findings. Perhaps the most interesting of these is a recommendation to consider small business needs in Universal Service reform. The authors note, quite correctly, that "the focus of the Universal Service programs has been on institutions (through the e-rate program for schools and libraries and the rural health care pilot program for health care entities) and on residential service (through the high-cost and low income programs)."
But at least one report recommendation will get little support from incumbent service providers. The report authors recommend, for example, that policymakers encourage and enable small business broadband providers by providing access to network infrastructure or otherwise lowering barriers to entry.
Small telcos, in particular, are also likely to dispute the report's recommendation to "stay the course on the implementation of the FCC's National Broadband Plan." That plan has drawn substantial criticism from rural telcos who argue that the plan, as outlined, would set the target national minimum broadband speed too low.
The full report is available here.